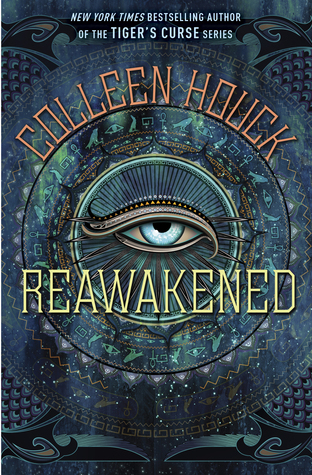 Reawakened
Author:
Colleen Houck
Series:
The Reawakened Series, Book 1
Publication:
Delacorte Press (August 11, 2015)
Description:
When seventeen-year-old Lilliana Young enters the Metropolitan Museum of Art one morning during spring break, the last thing she expects to find is a live Egyptian prince with godlike powers, who has been reawakened after a thousand years of mummification. 
And she
really
can't imagine being chosen to aid him in an epic quest that will lead them across the globe.
 
But fate has taken hold of Lily, and she, along with her sun prince, Amon, must travel to the Valley of the Kings, raise his brothers, and stop an evil, shape-shifting god named Seth from taking over the world. 
 
From
New York Times
bestselling author Colleen Houck comes an epic adventure about two star-crossed teens who must battle mythical forces and ancient curses on a journey with more twists and turns than the Nile itself.

My Thoughts:
Readers who have read Rick Riordan's Kane Chronicles and are perhaps a year or two older are the perfect audience for this new novel by Colleen Houck. Lilliana Young has a lifetime pass to the Metropolitan Museum of Art. She is looking for a quiet place to make a decision about her future college plans and is allowed into the closed Egyptian wing. Lilliana is rich, privileged, and a good daughter. She has been content to go along with her parents' plans for her with no more than a quiet little niggling of rebellion.
She meets Amon who is an ancient Egyptian Prince who sacrificed himself to save his people from the god Seth. Amon and two friends who are also princes and like brothers to him are all tasked with being reincarnated every thousand years to perform the ritual that keeps Seth away. However, this time there is a problem. He wasn't supposed to be reincarnated in a museum in New York and his Canopic jars are missing, The jars contain his internal organs which hold the powers he need to defeat Seth. He is forced to make a bond with Lilliana and use her life essence to survive. This makes Lily weaker and changes her personality too. She becomes bolder and more outspoken.
Together the two head off to Egypt to find Amon's canopic jars and find and raise his brothers. But Seth's minions have awakened and they will do anything to keep the ritual from happening. The story was filled with lots and lots of details about Ancient Egyptian beliefs and objects. Sometimes, I felt that the amount of detail slowed the pace of the book to a crawl.
I liked the way Lily and Amon get to know each other in the story. I didn't like the way he kept secrets from her that contained information she should have had. I liked Amon's brothers too. There personalities were distinct despite the small amount of time they were "on stage."
Fans of epic fantasy with an Egyptian twist will enjoy this romantic story.
Favorite Quote:
Amon set down the little statue, which I now recognized as the god of Earth, Geb, beneath his wife, Nut, who rose above him. the space between their bodies was wide and cold. "Sacrifices must be made so that others may find happiness," Amon replied quietly.
I got this ARC from NetGalley.
You can buy your copy here
.