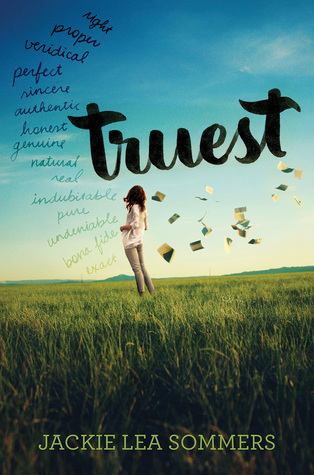 Truest
Author:
Jackie Lea Sommers
Publication:
Katherine Tegen Books (September 1, 2015)
Description:
A breathtaking debut brings us the unforgettable story of a small-town love, big dreams, and family drama.
Silas Hart has seriously shaken up Westlin Beck's small-town life. Brand-new to town, Silas is different from the guys in Green Lake. He's curious, poetic, philosophical,
maddening
—and really, really cute. But Silas has a sister—and she has a secret. And West has a boyfriend. And life in Green Lake is about to change forever.
Truest
is a stunning, addictive debut. Romantic, fun, tender, and satisfying, it asks as many questions as it answers. Perfect for fans of
The Fault in Our Stars
and
Ten Things We Did (and Probably Shouldn't Have)
.
My Thoughts:
The summer before her senior year brings big changes to Westlin Beck. Her best friend Trudy is off being a camp counselor and her boyfriend Elliot is working full time on the family farm to save up enough money for a car. West is feeling kind of lost and at loose ends.
She tags along when her minister father brings communion to the new family in town. She takes one look at Silas and things start to change. First, her father invites him to join with West in her car detailing business. Then they start hanging out together. Silas in turns intrigues and annoys her but he always fascinates her. But West has a boyfriend, a boy she married under the jungle gym when they were in second grade.
Despite holding on with both hands, West can't stop the changes that are happening to her this summer. Her older friend Gordon is losing his memory. Her father is putting everyone else's needs ahead of the needs of his family. Her friend Whit is drinking more and more.
And then there is Silas's sister Laurel. Silas's twin has severe mental issues. She has Solipsism Syndrome which means that she believes that she is living in a dream. Some days she's all right but other days she has screaming fits. This disease has caused problems for her whole family but it seems especially hard on Silas because he's her twin.
This was an amazing story about falling in love, growing up, and deciding what to believe in. Both West and Silas are readers so there are lots of references to great thinkers and poets. Silas also writes poetry of his own and some of his work is in the book.
This was an excellent, touching story. I can't wait to share it with my students.
Favorite Quote:
Trudy smiled a little sadly. "Green Lake is changing. So are you."

It sounded a tiny alarm in me, especially with her sad smile. I rushed to correct her. "False," I said. "Nothing has changed. Pocket Swanson won't shut up. Jody Perkins drives that lawn mower around like it's a frickin' Porsche. It's all just the same old Green Lake."
I got this ARC from Edelweiss.
You can buy your copy here
.