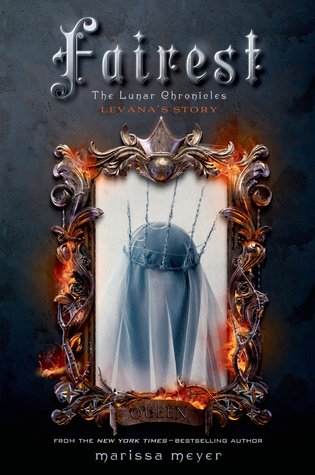 Fairest
Author:
Marissa Meyer
Series:
The Lunar Chronicles
Publication:
Feiwel & Friends (January 27, 2015)
Description:
Mirror, mirror, on the wall.
Who is the Fairest of them all?
Pure evil has a name, hides behind a mask of deceit, and uses her "glamour" to gain power. But who
is
Queen Levana? Long before she crossed paths with Cinder, Scarlet, and Cress in The Lunar Chronicles, Levana lived a very different story--a story that has never been told . . . until now.
New York Times
-bestselling author Marissa Meyer reveals the story behind her fascinating villain in
Fairest
, an unforgettable tale about love and war, deceit and death. This extraordinary book includes a special full-color image of Levana's castle and an excerpt from
Winter
, the exciting conclusion to The Lunar Chronicles.
My Thoughts:
I enjoyed getting into the evil Queen Levana's head. I could see how she went from a lonely and neglected child into the sociopath she became. As the younger child of a King and Queen who had no interest in being parents and the younger sister of a sneaky and cruel princess, Levana didn't have any experience of bonding, family, or love.
She spent her whole time behind her glamour since her older sister's torture had caused deep burns on half of her face, her hand and arm, and neck and rib cage. She felt that she was ugly and her older sister reinforced her feelings all the time. She was ashamed of being the only ugly one among the beauties of the Court. She also felt that she would be a better Queen than her older sister.
When her older sister dies of an infection, it leaves her daughter Selene as the future Queen and Levana as the Queen Regent. Meanwhile, Levana has coerced a guard to marry her. Evret treated her with kindness which Levana mistook as love. When his wife died in childbirth, Levana decided that he had to love her and, when he didn't, she used her powers of coercion to force him. They, along with his daughter Winter, stayed together for ten years. It takes that long for Levana to finally realize that Evret would never love her.
Meanwhile, Levana is trying to be the fairest - the best queen for Luna. She encourages the research to create the plague that can decimate the humans on Earth. She encourages the development of the super soldier program. She forces her workers to keep increasing productivity. But the moon has finite resources and Levana sets her sights on Earth. She doesn't want a trading partner; she want to conquer Earth.
It was fascinating watching her step by step progress from abused and neglected child to the evil, ruthless, amoral ruler we see in CINDER, SCARLET, and CRESS. The book also has a preview of WINTER but I didn't read it. I want the whole story before I begin this final book in the Lunar Chronicles.
Favorite Quote:
She cried for the girl who had never belonged. A girl who tried so hard, harder than anyone else, and still never had anything to show for it. A girl who had been certain that Evret loved her and only her, and now she couldn't even remember what that certainty felt like.
I bought this one.
You can buy your copy here
.