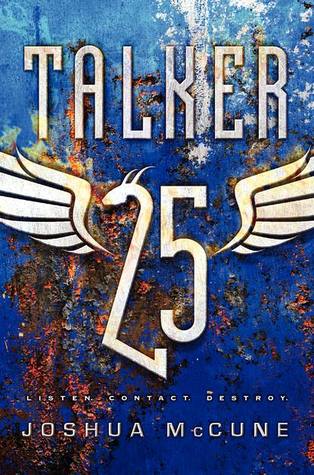 Talker 25
Author:
Joshua McCune
Series:
Talker 25 (Book 1)
Publication:
Greenwillow Books; Reprint edition (June 2, 2015)
Description:
Debut author Joshua McCune's gritty and heart-pounding novel is a masterful reimagining of popular dragon fantasy set in a militant future reminiscent of Paolo Bacigalupi's
Ship Breaker
and Ann Aguirre's
Outpost
.
The Horn Book
called it "absolutely gripping and absolutely horrifying."
It's a high-school prank gone horribly wrong—sneaking onto the rez to pose next to a sleeping dragon—and now senior Melissa Callahan has become an unsuspecting pawn in a war between Man and Monster, between family and friends and the dragons she has despised her whole life. Chilling, epic, and wholly original, this debut novel imagines a North America where dragons are kept on reservations, where strict blackout rules are obeyed no matter the cost, where the highly weaponized military operates in secret, and where a gruesome television show called
Kissing Dragons
unites the population.
Joshua McCune's debut novel offers action, adventure, fantasy, and a reimagining of popular dragon lore. "The story packs significant punch."—
Publishers Weekly
My Thoughts:
I couldn't put this book down! In the future, the Earth has been invaded by dragons. In the initial invasion, 80 million died. The Earth forces mobilized and now, fifteen years later, have the upper hand. They have learned a lot about the dragons including that they can't see black. Melissa Callahan lives in a military base on the outskirts of a reservation of blue dragons. Her father is a high ranking military officer who does research on the dragons. Her mother was killed in Arlington in a dragon attack. Melissa hates dragons but finds herself one evening riding shotgun when her best friend's date takes them to the reservation to take a picture with dragons.
Melissa is frightened and even more frightened when the dragon seems to talk to her. When the dragons break out of the reservation and attack the base, Melissa is surprised to be rescued by one of the boys from the date who is riding a dragon. There is a group of humans, many of them able to talk to the dragons, who are opposed to the government's goal of wiping out all dragons. Melissa meets some of these people and learns that her mother was a member of this insurgency. She also learns that she can talk to dragons and meets a baby silver dragon.
She and the baby dragon are captured by the military. Melissa is fitted with a crown that keeps her from communicating with dragons, lets the military read her thoughts, and is able to send electric shocks to punish her if she doesn't follow directions. She is taken to a secret base in Antarctica where the military is experimenting on the dragons they catch. They are also using the talkers to locate hidden dragons and control dragons who are being used to keep the war alive and further the military's agenda.
There aren't any good guys in this one. The military isn't willing to admit that all dragons are not evil and they are doing evil things - including torturing and brainwashing minor US citizens - to further their own agenda.
The things that happened in this story sometimes made it hard to read. Sometimes they even made me feel sick. I felt so sorry for Melissa and for the dragon she called Baby.
Favorite Quote:
Now I'm in trouble again. But I don't know better this time. The right and wrong I learned in school don't make sense anymore. Everything's a confusing shade of grey. Or black.
I bought this one.
You can buy your copy here
.