Happy Friday everybody!!
Book Beginnings
on Friday is now hosted by
Rose City Reader
. The Friday 56 is hosted at
Freda's Voice
. Check out the links above for the rules and for the posts of the participants each week. Don't dig for your favorite book, the coolest, the most intellectual. Use the CLOSEST.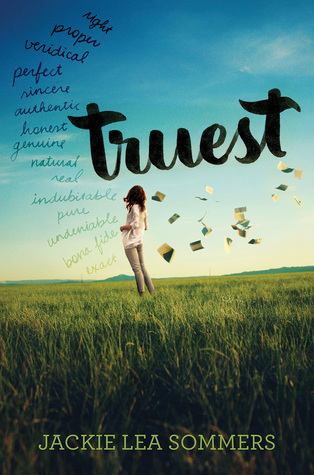 This week I am spotlighting
Truest
by Jackie Lea Sommers. I got this eARC from Edelweiss for review. Here is the description from Amazon:
A breathtaking debut brings us the unforgettable story of a small-town love, big dreams, and family drama.

Silas Hart has seriously shaken up Westlin Beck's small-town life. Brand-new to town, Silas is different from the guys in Green Lake. He's curious, poetic, philosophical, maddening—and really, really cute. But Silas has a sister—and she has a secret. And West has a boyfriend. And life in Green Lake is about to change forever.

Truest is a stunning, addictive debut. Romantic, fun, tender, and satisfying, it asks as many questions as it answers. Perfect for fans of The Fault in Our Stars and Ten Things We Did (and Probably Shouldn't Have).
Beginning:
The swans on Green Lake looked like tiny icebergs, only it was the first weekend of my summer vacation.
Friday 56:
My voice curved like her shoulders and turned soft and slow, bowed with understanding as the poem allowed for falling in love with someone else's sadness.