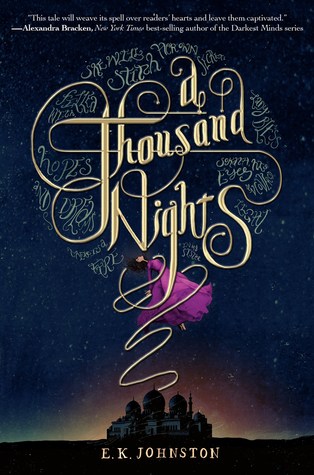 A Thousand Nights
Author:
E, K. Johnston
Publication:
Disney-Hyperion (October 6, 2015)
Description:
Lo-Melkhiin killed three hundred girls before he came to her village, looking for a wife. When she sees the dust cloud on the horizon, she knows he has arrived. She knows he will want the loveliest girl: her sister. She vows she will not let her be next.

And so she is taken in her sister's place, and she believes death will soon follow. Lo-Melkhiin's court is a dangerous palace filled with pretty things: intricate statues with wretched eyes, exquisite threads to weave the most beautiful garments. She sees everything as if for the last time.But the first sun rises and sets, and she is not dead. Night after night, Lo-Melkhiin comes to her and listens to the stories she tells, and day after day she is awoken by the sunrise. Exploring the palace, she begins to unlock years of fear that have tormented and silenced a kingdom. Lo-Melkhiin was not always a cruel ruler. Something went wrong.

Far away, in their village, her sister is mourning. Through her pain, she calls upon the desert winds, conjuring a subtle unseen magic, and something besides death stirs the air.

Back at the palace, the words she speaks to Lo-Melkhiin every night are given a strange life of their own. Little things, at first: a dress from home, a vision of her sister. With each tale she spins, her power grows. Soon she dreams of bigger, more terrible magic: power enough to save a king, if she can put an end to the rule of a monster.
My Thoughts:
This story is told by a young woman who steps in for her beloved sister when Lo-Meklhiin comes to their desert village in search of another wife. He has has more than 300 hundred brides and they have all died. Our heroine believes that she will soon die too but feels that it is worth it if her sister survives.
She is taken to his city where she feels alien. It is so different than life in the desert. Also, no one really wants to get to know her because they have already seen so many wives come and then die. But our heroine survives the first night and subsequent nights too. She learns that she has some power that keeps her groom from draining her life.
At home, her sister has set up a shrine to her and has encouraged her father and brothers to spread the shrines to all the places they go with their caravans. The shrines are marked with bits of purple cloth like the cloth of her wedding garment. Our heroine isn't completely comfortable with being worshiped as a smallgod but is grateful for the power that comes to her which lets her resist her husband's energy drains and helps her ameliorate some of his actions to his people.
The story is lyrical without being florid and really gives the feeling of place. The desert almost becomes another character in this novel. It wasn't until I was reading the Author's Notes at the back that I realized that none of the characters were named. Our heroine is referred to as Sister or Lady-bless depending on where she is. She talks about her Sister, her Mother, her Sister's Mother, but no one is named.
This was an engaging story that I couldn't put down. Fans of fairy tales will enjoy this one.
Favorite Quote:
Always, it seemed, men would overlook unpleasant things for the sake of those that went well. The statues' eyes for the melodious sounds of the fountain. The deaths of their daughters for the bounty of their trade.
I got this ARC from NetGalley.
You can buy your copy here
.