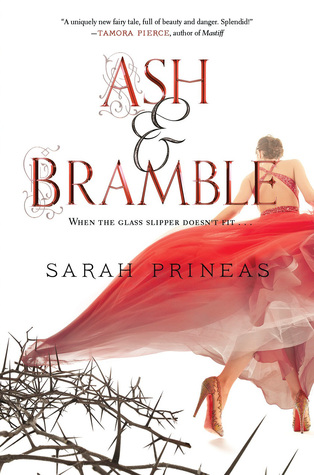 Ash & Bramble
Author:
Sarah Prineas
Publication:
HarperTeen (September 15, 2015)
Description:
The tale of Cinderella has been retold countless times. But what you know is not the true story. Sarah Prineas's bold fairy-tale retelling is a dark and captivating world where swords are more fitting than slippers, young shoemakers are just as striking as princes, and a heroine is more than ready to rescue herself before the clock strikes midnight.
Pin has no recollection of who she is or how she got to the Godmother's fortress. She only knows that she is a Seamstress, working day in and out to make ball gowns fit for fairy tales. But she longs to forsake her backbreaking servitude and dares to escape with the brave young Shoemaker.
Pin isn't free for long before she's captured again and forced to live the new life the Godmother chooses for her—a fairy-tale story, complete with a charming prince—instead of finding her own happily ever after.
When the glass slipper just doesn't fit . . .
My Thoughts:
This story puts a new twist on fairy tales. It begins when a girl comes to herself after a dark time and is told that that she is Seamstress. She is taken to a room filled with other seamstresses and set to sewing stitches like grains of sand. But the girl isn't ready to accept this life, she has a thimble that she hides and protects and she has the determination to get away.
She meets Shoemaker when he comes to talk to the Overseer about a blue requisition because he can't believe that he is being asked to create a glass slipper. Later he comes to use the girl and her foot as a pattern for shoes he is to make. The girl chooses the name Pin and recruits the shoemaker to help in her escape.
After a harrowing escape, the find themselves in the forest which has no love for the Godmother who controls everything and they are aided by the Huntsman. Still, the Godmother's minions are right behind and Pin is captured while allowing Shoe to escape,
The next part has the girl, again with her memory wiped away, awaking in a lovely house in the Godmother's city. The Godmother wants to force her into the story of Cinderella but Pin, now Pen, is rebelling. While the prince is a nice guy, Pen is also taken with this guy named Shoe despite not remembering him. Shoe does remember and is still trying to help Pen break out of the story the Godmother is pushing on her.
This was a fascinating story filled with all sorts of fairy tale details but with a delightful new twist. Fans of non-traditional fairy tales or fans of fairy tales who want to take a new look at the whole idea of Story will be a great audience for this book.
Favorite Quote:
"What if the stories aren't told? What if they're lived? What if you were forced to live your life in the shape of a story that is not your own, with no choice about who you are and where you're going?"
I got this eARC from Edelweiss.
You can buy your copy here
.