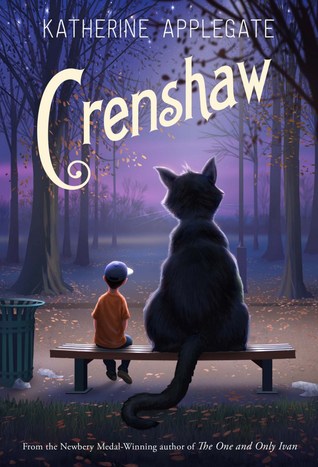 Crenshaw
Author:
Katherine Applegate
Publication:
Feiwel & Friends (September 22, 2015)
Description:
In her first novel since winning the Newbery Medal, Katherine Applegate delivers an unforgettable and magical story about family, friendship, and resilience.
Jackson and his family have fallen on hard times. There's no more money for rent. And not much for food, either. His parents, his little sister, and their dog may have to live in their minivan. Again.
Crenshaw is a cat. He's large, he's outspoken, and he's imaginary. He has come back into Jackson's life to help him. But is an imaginary friend enough to save this family from losing everything?
Beloved author Katherine Applegate proves in unexpected ways that friends matter, whether real or imaginary.
My Thoughts:
CRENSHAW is a heart-breaking but hopeful story told by fourth grader Jackson about his family and his imaginary cat. Jackson's family has hit some hard times. His dad has MS and his mom has lost her job as a music teacher. There isn't enough to eat and they are getting close to losing their home.
When Jackson was in first grade the family lost their home and lived in their mini-van for fourteen weeks until they found their current apartment. While they were living in the van, Jackson met a black and white skateboarding cat that he named Crenshaw. Crenshaw kept him company and was his friend during that difficult time.
Now, Crenshaw is back. Seeing Crenshaw is difficult for fact-loving Jackson. He's sure that he is too old for an imaginary friend. But Crenshaw helps him deal with the yard sale they have to sell all of their things but a few keepsakes.
While times are hard for Jackson, his sister Robin and his parents, the one thing that isn't missing is the love that they all have for each other. I liked the hopeful ending of the story.
Favorite Quote:
Facts are so much better than stories. You can't see a story. You can't hold it in your hand and measure it.

You can't hold a manatee in your hand either. But still. Stories are lies, when you get right down to it. And I don't like being lied to.
**********
"Imaginary friends are like books. We're created, we're enjoyed, we're dog-eared and creased, and then we're tucked away until we're needed again."
I got this ARC from Macmillan via NetGalley.
You can buy your copy here
.