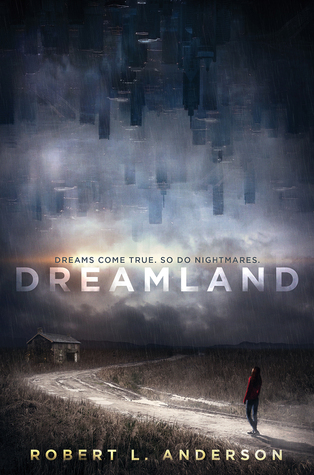 Dreamland
Author:
Robert L. Anderson
Publication:
HarperTeen (September 22, 2015)
Description:
From immensely talented debut author Robert L. Anderson comes a stunning, complex, and imaginative story about the fine line between dreams and reality that will appeal to fans of Maggie Stiefvater's The Raven Cycle.
Odea Donahue has been able to travel through people's dreams since she was six years old. Her mother taught her the three rules of walking:
Never interfere. Never be seen. Never walk the same person's dream more than once.
Dea has never broken the rules.
Then a mysterious new boy, Connor, comes to town. For the first time in her life, Dea feels normal. But both Dea and Connor have secrets, and as she is increasingly drawn to Connor's dreams—and nightmares—the boundary between worlds begins to deteriorate, putting everyone she loves in danger.
My Thoughts:
Dea Donahue is a relative newcomer to Fielding and is already an outcast. She and her mother are both considered odd. Dea is odd she has been able to travel through people's dreams since she was a small child. In fact, she has to travel through others dreams or she gets sick. Her mother also walks through dreams and she gave Dea three rules. The most important is that she should never walk the same person's dreams more than once.
The rules get hard to follow when Connor moves in across the street. He becomes her friend and doesn't drop her when he finds out that she is the school outcast. When she walks in his dreams she learns that he has a terrible tragedy in his past. When he was six, his mother and little brother were killed and popular opinion is convinced the Connor is the murderer. Connor has been left with nightmares about the faceless murderers.
When Dea walks through his dreams a second time to try to see if she can see the murderers' faces, she is breaking her mother's rules and begins to be chased by monsters herself. Her mother has disappeared and the police are looking for her accusing her of fraud and running cons. While searching for her mother, the monsters come to the waking world and cause Dea to have a car accident. She wakes in the mental ward of the hospital.
Connor helps her escape and they go on the run. Dea is running from both real world and dream monsters. She runs to the dream world to search for her mother where she learns some pretty unbelievable things.
I enjoyed this story both for the world building and for the relationship between Dea and Connor. I think teen readers will enjoy this imaginative story.
Favorite Quote:
But no, Connor was still there, on her porch, looking extra boy: old jeans and worn black Chucks and a band T-shirt, his hair a little messy, his smile a little crooked, definitely the cutest boy who had ever spoken to her or stood close enough that she could smell the fact that he was chewing gum.
I got this ARC from Edelweiss.
You can buy your copy here
.