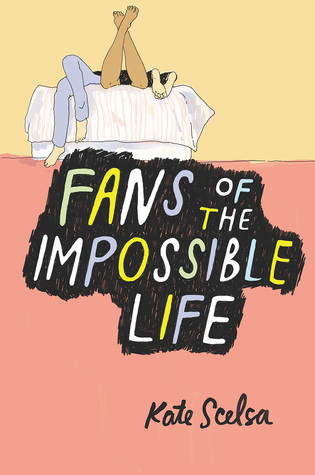 Fans of the Impossible Life
Author
: Kate Scelsa
Publication
: Balzer + Bray (September 8, 2015)
Description:
A captivating and profound debut novel about complicated love and the friendships that have the power to transform you forever, perfect for fans of
The Perks of Being a Wallflower
.
Mira is starting over at Saint Francis Prep. She promised her parents she would at least try to pretend that she could act like a functioning human this time, not a girl who can't get out of bed for days on end, who only feels awake when she's with Sebby.
Jeremy is the painfully shy art nerd at Saint Francis who's been in self-imposed isolation after an incident that ruined his last year of school. When he sees Sebby for the first time across the school lawn, it's as if he's been expecting this blond, lanky boy with mischief glinting in his eye.
Sebby, Mira's gay best friend, is a boy who seems to carry sunlight around with him. Even as life in his foster home starts to take its toll, Sebby and Mira together craft a world of magic rituals and impromptu road trips, designed to fix the broken parts of their lives.
As Jeremy finds himself drawn into Sebby and Mira's world, he begins to understand the secrets that they hide in order to protect themselves, to keep each other safe from those who don't understand their quest to live for the impossible.
My Thoughts:
This was an amazing book. It tells the stories of three misfits who manage to find each other and provide each other strength and friendship. Each of the kids - Jeremy, Mira, and Sebby - get chapters to tell the story.
Jeremy is a shy loner who is always sketching and who is just back in school after an incident the previous spring. His locker was painted with sexual slurs. He is questioning his own sexuality and lives with his father and his father's husband Dave. They are loving parents but can't protect him when he is at school.
Mira is new at Jeremy's school this year. She needs a fresh start after missing most of the previous year because of a suicide attempt and a bout with depression. She would still prefer to sleep her life away rather than deal with the expectations of her lawyer parents and the example of her perfect older sister now away at Harvard. Mira is a devoted thrifter and is good at remaking and re-purposing the clothes she finds. She is not comfortable in her changing body and is gaining weight.
Sebby is the gay foster kid who has dropped out of school but spends time hanging out with Mira and Jeremy at their school. Sebby is funny but hides a deep sense of loneliness and isolation. He fills his time shoplifting and using drugs and alcohol.
When the three get to know each other, they come to depend on each other for their emotional stability until things go too far wrong for one of them.
I liked the teacher at the school who befriended Jeremy and Sebby. Peter made a good sounding board for both Jeremy and Mira. Occasionally Sebby would join them at Peter's house but he didn't interact with Peter as much. I was not surprised at the outcome for Peter but I was saddened.
I recommend this story to YAs who don't feel like they fit in. Mira, Jeremy and Sebby could be mirrors for kids who are different.
Favorite Quote:
"May we live impossibly," Sebby said when he opened his eyes. "Against all odds. My people look at us and wonder how such jewels can sparkle in the sad desert of the world. My we live the impossible life."
I got this ARC from Edelweiss.
You can buy your copy here
.