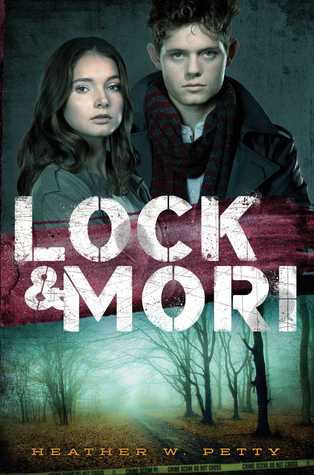 Lock & Mori
Author:
Heather W. Petty
Publication:
Simon & Schuster Books for Young Readers (September 15, 2015)
Description:
In modern-day London, two brilliant high school students—one Sherlock Holmes and a Miss James "Mori" Moriarty—meet. A murder will bring them together. The truth very well might drive them apart.
Before they were mortal enemies, they were much more…
FACT: Someone has been murdered in London's Regent's Park. The police have no leads.
FACT: Miss James "Mori" Moriarty and Sherlock "Lock" Holmes should be hitting the books on a school night. Instead, they are out crashing a crime scene.
FACT: Lock has challenged Mori to solve the case before he does. Challenge accepted.
FACT: Despite agreeing to Lock's one rule—they must share every clue with each other—Mori is keeping secrets.
OBSERVATION: Sometimes you can't trust the people closest to you with matters of the heart. And after this case, Mori may never trust Lock again.
My Thoughts:
This is the Sherlock Holmes story re-imagined for the current day. It was an engaging mystery with great characters. Mori meets Sherlock when she is sent to fetch him from his lab under the theater when the fire alarm goes off. Sherlock has a lot of the same characteristics as his famous counterpart. He's observant, rather obsessive, and rather oblivious to things he doesn't think are essential. Beyond that he is also a cute teenage boy.
Mori narrates the story and we quickly see that she is bright, observant, and intolerant of anyone not as smart as she is. She immediately finds Sherlock annoying. One thing that is also true about Mori is that she is having a difficult time at home. Her mother has died of cancer and her Detective Sergeant father has taken to drinking and abusing his four children. At the beginning of the story Mori is dealing with verbal abuse while her three younger brothers are dealing with physical abuse. She has called the police but, being her father's colleagues, they are dismissive and do nothing.
One evening, Mori goes to her favorite place in Regent's Park to think and encounters Sherlock. He takes her to see a crime scene and proposes that they compete to see if they can solve the crime. Though Mori has confidence that she can solve the case before Sherlock, she isn't really interested in playing the game. That it, until she learns that the victim was the father of a school mate and has a connection to her mother.
Now Mori wants to solve the case in order to learn some of the secrets her mother was keeping. She and Sherlock are supposed to be sharing information but some of the things she learns are personal. She isn't sharing.
There are many shout outs to the Sherlock Holmes mysteries. Sherlock has a brother named Mycroft. Sherlock and Mycroft had a nanny named Mrs. Hudson. The school mate's boyfriend is John Watson. Both Sherlock and Mori live on Baker Street. But otherwise this was a far different story. Sherlock and Mori have a relationship that goes from rivalry to romance. Both have family issues that occupy some of their time and attention.
I enjoyed this story and think young mystery fans will enjoy it too whether or not they are familiar with the original Sherlock Holmes stories.
Favorite Quote:
Lock leaned his face down toward mine so he could speak softly in my ear. "I have made an observation of a different sort."

"And that is?"

He shifted his weight from one foot to the other, and his cheek pressed gently to mine. "When a person cares for another, he wants to know everything about her all at once."

I grinned. "Where's the fun in that?"
I got this ARC from Edelweiss.
You can buy your copy here
.