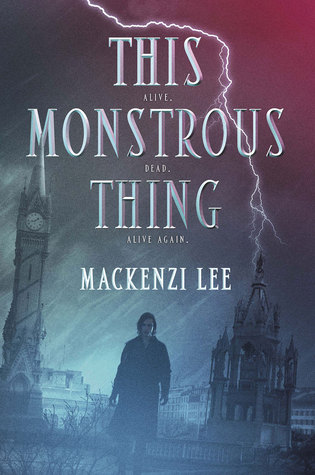 This Monstrous Thing
Author:
Mackenzi Lee
Publication:
Katherine Tegen Books (September 22, 2015)
Description:
A wildly creative Gothic fantasy retelling of
Frankenstein
,
This Monstrous Thing
is a wholly new reimagining of the classic novel by Mary Shelley and is perfect for fans of retellings such as
Cinder
by Marissa Meyer, fantasy by Libba Bray and Cassandra Clare, and alternative history by Scott Westerfeld.
In an alternative fantasy world where some men are made from clockwork parts and carriages are steam powered, Alasdair Finch, a young mechanic, does the unthinkable after his brother dies: he uses clockwork pieces to bring Oliver back from the dead.
But the resurrection does not go as planned, and Oliver returns more monster than man. Even worse, the novel
Frankenstein
is published and the townsfolk are determined to find the real-life doctor and his monster. With few places to turn for help, the dangers may ultimately bring the brothers together—or ruin them forever.
My Thoughts:
This re-imagining of Frankenstein set in a steampunk world was fascinating and filled with characters I cared about. Alasdair Finch is a Shadow Boy. He and his family - father, mother and older brother Oliver - have fled from place to place in Europe because combining medicine with mechanics is reviled. He and his family secretly help those who are injured by creating clockwork limbs.
When his brother Oliver dies in an accident, Alasdair goes a step further and brings him back to life with clockwork parts. He hides Oliver in a castle outside Geneva. Prejudices in Geneva are especially bad regarding anyone with clockwork parts. The head of the police Jiroux is determined to rid the city of them.
Exacerbating matters in all of Europe is the publication of
Frankenstein
by an anonymous author. Alasdair reads enough to know that it is telling his and Oliver's story. He wonders who wrote it. He thinks it might have been Oliver. Or perhaps it was Geisler, the scientist who started his father on the path of being a Shadow Boy. Or it might have been Mary Godwin. Two years earlier Mary, Alasdair and Oliver spent a summer together. Mary was staying in a villa near Geneva. Alasdair begins to fall in love with her until she tells him that she is already engaged to be married to Percy Shelley.
After Oliver's accident, it is Mary who helps Alasdair dig up his grave and reanimate him. Then she disappears.
I ached for Alasdair who wanted the life his brother despised. He wanted to be Geisler's student and attend the university in Ingolstadt while his father was pushing that future on Oliver. When Oliver died, Alasdair didn't think of the far-reaching consequences, he just wanted the brother he loved back with him again.
And, poor Oliver - reanimated and without his memories, in a body he despises and forced to stay in hiding. He is so very angry. While he was always reckless and impulsive, he had a loving heart. Now that part of him seems not to have been resurrected.
This was a wonderful story both for people who have read
Frankenstein
and for those who have not. I recommend it.
Favorite Quote:
My father liked to say that prejudice didn't have to make sense, but I'd still never worked out how anyone could think what we did was wicked. People like Jiroux thought that as soon as metal was fused to bone and muscle it took something fundamental and human away, and that men and women with mechanical parts were machines, somehow less than the rest of us.

The clockwork men either lived broken, or hated. It was a shitty choice.
I got this ARC from Edelweiss.
You can buy your copy here
.