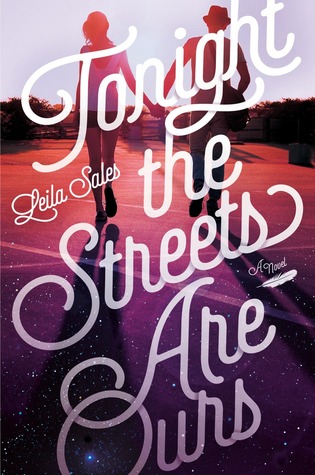 Tonight the Streets Are Ours
Author:
Leila Sales
Publication:
Farrar, Straus and Giroux (BYR) (September 15, 2015)
Description:
Recklessly loyal.
That's how seventeen-year-old Arden Huntley has always thought of herself. Taking care of her loved ones is what gives Arden purpose in her life and makes her feel like she matters. But lately she's grown resentful of everyone--including her needy best friend and her absent mom--taking her loyalty for granted.
Then Arden stumbles upon a website called Tonight the Streets Are Ours, the musings of a young New York City writer named Peter, who gives voice to feelings that Arden has never known how to express. He seems to
get
her in a way that no one else does, and he hasn't even met her.
Until Arden sets out on a road trip to find him.
During one crazy night out in New York City filled with parties, dancing, and music--the type of night when anything can happen, and nearly everything does--Arden discovers that Peter isn't exactly who she thought he was. And maybe she isn't exactly who she thought she was, either.
My Thoughts:
This contemporary story primarily tells what Arden's junior year was like. It also has flashbacks and flash-forwards (?) too. Arden Huntley is a nice kid who has a habit of being a "fixer." Arden's one claim to fame is that she won a contest and had a doll created about her. (Think American Girl) The descriptor of the doll said that Arden was "recklessly loyal" and Arden has been trying to live up that that ever since.
If her best friend Lindsey has a problem or screws something up, Arden is there to fix it. When a bit of pot is found in Arden's locker, she takes the blame even though she knows Lindsey is the one who left it. She is the one who is going to have "drug user" on her high school transcript but that's okay because it is what friends do. Only it's all one-sided.
Her boyfriend is theater geek Chris. He is determined to be a movie star one day. Arden is content to be on the crew and make sure everything and everyone is where they are supposed to be. They began dating when he had his heart broken by another girl and Arden was the rebound girl. She has been trying to be the best girlfriend ever for a year.
One day Arden searches the internet for the answer to a question: why doesn't anybody love me as much as I love them? and finds a blog called Tonight the Streets Are Ours. She gets totally involved in the posts there which are written by a boy named Peter who is talking about his life. After her boyfriend blows off the one-year anniversary celebration that Arden has planned, she picks up her friend Lindsey and decides that she has to drive her clunker into New York City - across three states - to see if she can find and meet Peter.
What she learns is eye-opening and maybe even life-changing. This was an engaging story about a girl who is learning what it means to love and what it means when people don't necessarily love her back.
Favorite Quote:
Arden at last turns away from the window display of dolls. "But if I wasn't recklessly loyal," she asks, "then who would I be?"
I got this ARC from Macmillan.
You can buy your copy here
.