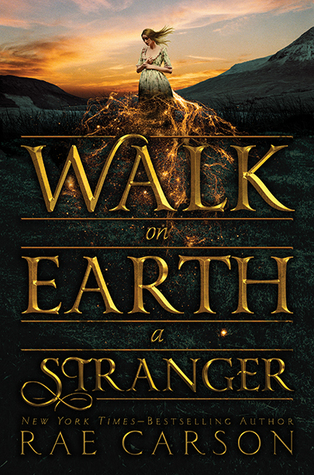 Walk on Earth a Stranger
Author:
Rae Carson
Series:
Gold Seer Trilogy (Book 1)
Publication:
Greenwillow Books (September 22, 2015)
Description:
The first book in a new trilogy from acclaimed
New York Times
-bestselling author Rae Carson. A young woman with the magical ability to sense the presence of gold must flee her home, taking her on a sweeping and dangerous journey across Gold Rush era America.
Walk on Earth a Stranger
begins an epic saga from one of the finest writers of young adult literature.
Lee Westfall has a secret. She can sense the presence of gold in the world around her. Veins deep beneath the earth, pebbles in the river, nuggets dug up from the forest floor. The buzz of gold means warmth and life and home—until everything is ripped away by a man who wants to control her. Left with nothing, Lee disguises herself as a boy and takes to the trail across the country. Gold was discovered in California, and where else could such a magical girl find herself, find safety?
Rae Carson, author of the acclaimed Girl of Fire and Thorns series, dazzles with the first book in the Gold Seer Trilogy, introducing a strong heroine, a perilous road, a fantastical twist, and a slow-burning romance, as only she can.
My Thoughts:
WALK ON EARTH A STRANGER combines historical fiction with fantasy. Leah Westfall is a pretty normal young girl living in Georgia in 1849 with her mother and her father on their homestead. Except, Leah can sense gold both in the ground and in finished form. Her talent is hidden by her parents for fear that she would be exploited. Because he father is ill, Lee does the farm work, takes care of the animals, and does the hunting needed to feed her family. Naturally, this makes her an object of ridicule by the other girly girls who go to school with her. Her only friends are a young man named Jefferson, who is half Native American and who is being raised by his drunken and abusive father, and her palomino horse Peony.
When her parents are murdered by her smarmy Uncle Hiram, Lee decides to disguise herself as a boy and go off to California since the gold rush has just begun. Jefferson left a few days earlier and promised to wait for her in Independence if she decides to come. Thus begins her harrowing journey from Georgia overland to California.
Along her journey she meets evil people, including the three men who rob her on her first day away from home, and good people, including the men on the flatboat who offer her a job and get her closer to Independence. Once in Independence, she has to find her friend Jefferson and a wagon train to join for the long trip to California.
The detail about the hardships of the trip overland - inadequate food, water, medicine - are well documented. Lee's wagon train includes a wide variety of people from immigrant families from Canada and Germany, to three college boys who are "confirmed bachelors," to a bunch of hard-bitten Missouri men, to a preacher and his pregnant wife, to a sheep farmer with ten wagons. Lee and Jefferson end up working for the Joyners who are a gentleman, his wife and two small children. They insist an hauling all their furniture with them including the dining room table that they set every night with a red-checked tablecloth.
In the wagon train, we get a microcosm of life at the time with its prejudices against Native American and Black Americans, with its religious intolerance, with its rigid roles for the sexes. Lee is not going to be owned by a man and wonders why she is treated like she is stupid when she is dressed as a woman.
This was the great beginning to a series. I can't wait to find out what comes next for Lee and company now that they have reached California.
I got this ARC from Edelweiss.
You can buy your copy here
.