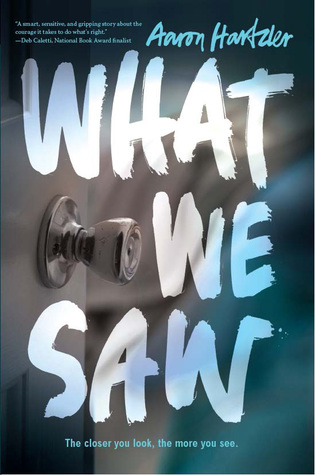 What We Saw
Author:
Aaron Hartzler
Publication:
HarperTeen (September 22, 2015)
Description:
Critically acclaimed memoirist Aaron Hartzler, author of
Rapture Practice
, takes an unflinching look at what happens to a small town when some of its residents commit a terrible crime. This honest, authentic debut novel—inspired by the events in the Steubenville rape case—will resonate with readers who've ever walked that razor-thin line between guilt and innocence that so often gets blurred, one hundred and forty characters at a time.
The party at John Doone's last Saturday night is a bit of a blur. Kate Weston can piece together most of the details: Stacey Stallard handing her shots, Ben Cody taking her keys and getting her home early. . . . But when a picture of Stacey passed out over Deacon Mills's shoulder appears online the next morning, Kate suspects she doesn't have all the details. When Stacey levels charges against four of Kate's classmates, the whole town erupts into controversy. Facts that can't be ignored begin to surface, and every answer Kate finds leads back to the same questions: Who witnessed what happened to Stacey? And what responsibility do they have to speak up about what they saw?
National Book Award finalist Deb Caletti calls
What We Saw
"a smart, sensitive, and gripping story about the courage it takes to do what's right."
My Thoughts:
What happened at that party at Dooney's that Saturday night? Junior Kate Weston doesn't know. She got drunk early and her friend Ben Cody took her home. She didn't even see any texts or hear anything about it until Monday. She was busy visiting her old friend Ben who has somehow gone from being her best friend when they are five, to someone who went his separate way for several years, to being a boy who could be a boyfriend.
When Stacey Stallard is absent on Monday, Kate wonders because she spent some time with her at the party. Then the rumors started, something happened that involved some of the members of the basketball team - the State-bound basketball team. Ben is a star on the team and is depending on getting noticed by college scouts for his way out of this small, economically-depressed Iowa town.
When four of the players are arrested and charged with sexual assault of a minor and dissemination of child pornography, the town become polarized. The principal and basketball coach stand up for these upstanding young men from good families. Some of the students think that they way Stacey dressed and acted made the rape her fault. Kate wanted to know the truth but she was afraid to ask the boy she was coming to love, and who loved her, what he knew about that night.
The kids, the school and the town all chose sides. No one who was at the party would come forward to tell what they saw. Then the news of a video surfaced. Despite a number of people trying to make sure that all copies were deleted, Kate saw the video and decided that she had to tell what she saw no matter what or who it would cost her.
This is a very timely story that will give thoughtful readers lots to ponder. It is a story that needs to be told and Hartzler did an excellent job of showing the ways various people reacted.
Favorite Quote:
He takes both of my hands in his. "I get it, Kate."

"Do you?" I ask. "Why does it feel like I'm the only one who cares about this?"

"I care. But I haven't seen that video," he says. "And I don't want to. I have to play on Friday and Saturday. I have to show the scouts what I can do." He brings my hand to his lips and kisses it. "I have to get out of here."
I got this ARC from Edelweiss.
You can buy your copy here
.