Happy Friday everybody!!
Book Beginnings
on Friday is now hosted by
Rose City Reader
. The Friday 56 is hosted at
Freda's Voice
. Check out the links above for the rules and for the posts of the participants each week. Don't dig for your favorite book, the coolest, the most intellectual. Use the CLOSEST.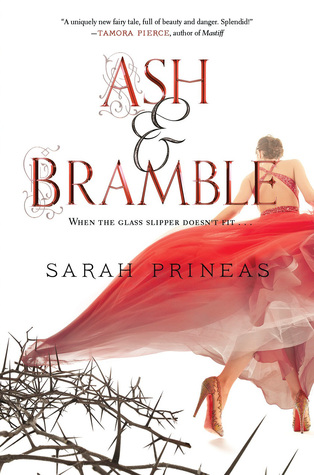 This week I am spotlighting
Ash & Bramble
by Sarah Prineas. I got this fairy tale retelling from Edelweiss. Here is the description from Amazon:
The tale of Cinderella has been retold countless times. But what you know is not the true story. Sarah Prineas's bold fairy-tale retelling is a dark and captivating world where swords are more fitting than slippers, young shoemakers are just as striking as princes, and a heroine is more than ready to rescue herself before the clock strikes midnight.

Pin has no recollection of who she is or how she got to the Godmother's fortress. She only knows that she is a Seamstress, working day in and out to make ball gowns fit for fairy tales. But she longs to forsake her backbreaking servitude and dares to escape with the brave young Shoemaker.

Pin isn't free for long before she's captured again and forced to live the new life the Godmother chooses for her—a fairy-tale story, complete with a charming prince—instead of finding her own happily ever after.

When the glass slipper just doesn't fit . . .
Beginning:
Your world is dark.

You fear the dark. You fear pain and sickness and loss and sorrow; you fear that your life is meaningless. You fear death, that most terrible of endings.
Friday 56:
All the way, he's cursing himself. Pin is in trouble and it's his fault, and now he's made her trouble even worse, very likely, and she thinks he's a thief and—and he kissed her and she probably hadn't liked that at all—and she will never trust him to help her get away, not after this.