Happy Friday everybody!!
Book Beginnings
on Friday is now hosted by
Rose City Reader
. The Friday 56 is hosted at
Freda's Voice
. Check out the links above for the rules and for the posts of the participants each week. Don't dig for your favorite book, the coolest, the most intellectual. Use the CLOSEST.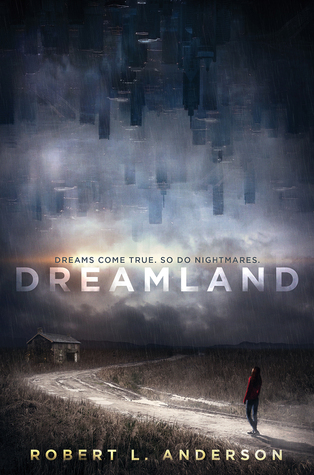 This week I am spotlighting
Dreamland
by Robert L. Anderson. I got this eARC from Edelweiss. Here is the description from Amazon:
From immensely talented debut author Robert L. Anderson comes a stunning, complex, and imaginative story about the fine line between dreams and reality that will appeal to fans of Maggie Stiefvater's The Raven Cycle.

Odea Donahue has been able to travel through people's dreams since she was six years old. Her mother taught her the three rules of walking: Never interfere. Never be seen. Never walk the same person's dream more than once. Dea has never broken the rules.

Then a mysterious new boy, Connor, comes to town. For the first time in her life, Dea feels normal. But both Dea and Connor have secrets, and as she is increasingly drawn to Connor's dreams—and nightmares—the boundary between worlds begins to deteriorate, putting everyone she loves in danger.
Beginning:
"Freaks." An empty can of Coke ricocheted off Odea's backpack and landed in the dirt. Inside the car, several girls laughed, a sound like the distant twittering of birds.
Friday 56:
All of the night nurses were old. Or maybe they weren't old, and only looked it. That must be the effect of years on the Crazy Ward, and long, dark hours filled with unnatural light, the stink of bleach, and the cries of people whose brains had turned traitor.