Happy Friday everybody!!
Book Beginnings
on Friday is now hosted by
Rose City Reader
. The Friday 56 is hosted at
Freda's Voice
. Check out the links above for the rules and for the posts of the participants each week. Don't dig for your favorite book, the coolest, the most intellectual. Use the CLOSEST.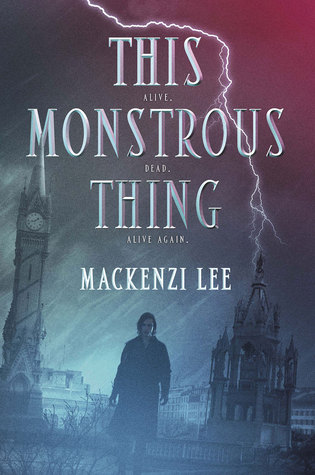 This week I am spotlighting
This Monstrous Thing
by Mackenzi Lee which is a retelling of
Frankenstein. I got this eARC from Edelweiss. Here is the description from Amazon:
A wildly creative Gothic fantasy retelling of Frankenstein, This Monstrous Thing is a wholly new reimagining of the classic novel by Mary Shelley and is perfect for fans of retellings such as Cinder by Marissa Meyer, fantasy by Libba Bray and Cassandra Clare, and alternative history by Scott Westerfeld.

In an alternative fantasy world where some men are made from clockwork parts and carriages are steam powered, Alasdair Finch, a young mechanic, does the unthinkable after his brother dies: he uses clockwork pieces to bring Oliver back from the dead.

But the resurrection does not go as planned, and Oliver returns more monster than man. Even worse, the novel Frankenstein is published and the townsfolk are determined to find the real-life doctor and his monster. With few places to turn for help, the dangers may ultimately bring the brothers together—or ruin them forever.
Beginning:
My brother's heart was heavy in my hands.
Friday 56:
"God's wounds. You'd think they'd be pleased you weren't dead."

"To them, I was. Being mechanical is as good as dead, and I'm worse because I can't survive without clockwork in me. I've never met anyone else like that."