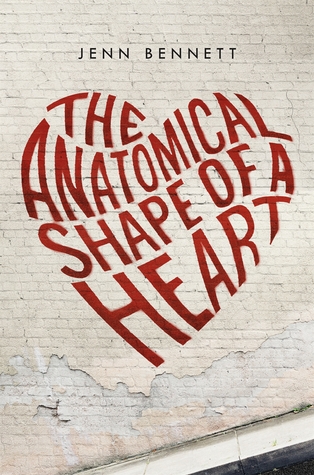 The Anatomical Shape of the Heart
Author:
Jenn Bennett
Publication:
Feiwel & Friends (November 3, 2015)
Description:
Artist Beatrix Adams knows exactly how she's spending the summer before her senior year. Determined to follow in Da Vinci's footsteps, she's ready to tackle the one thing that will give her an advantage in a museum-sponsored scholarship contest: drawing actual cadavers. But when she tries to sneak her way into the hospital's Willed Body program and misses the last metro train home, she meets a boy who turns her summer plans upside down.
Jack is charming, wildly attractive . . . and possibly one of San Francisco's most notorious graffiti artists. On midnight buses and city rooftops, Beatrix begins to see who Jack really is-and tries to uncover what he's hiding that leaves him so wounded. But will these secrets come back to haunt him? Or will the skeletons in Beatrix's own family's closet tear them apart?
My Thoughts:
Bex Adams is planning to spend the summer before her senior year working on her entry for an art contest that will provide some scholarship money for college. She wants to become a medical illustrator and has plans to draw cadavers. After being stood up by the doctor who runs the anatomy program, she's waiting for a late bus home when she meets a boy.
Jack Vincent is handsome, charming and mysterious. She suspects that he is the graffiti artist who is painting words in large gold letters all around San Francisco. When they meet again they begin to form a relationship. Each finds the other fascinating. But Jack is keeping some secrets.
Both Bex and Jack have difficult family issues that they have to resolve. Bex's parents are divorced and her mother is still very angry at her father. Her attitude has tainted her kids' relationship with their father. Bex hasn't seen him for three years and, when he surprises her, she has a screaming argument with him.
Jack's father is the mayor of San Francisco. He has a busy political life and Jack feels that he isn't very high on his father's priority list. Jack also has a twin sister who has been hospitalized with schizophrenia though everyone believes she is away at a school in Europe. Jack is doing his graffiti for her.
I really liked the romance in this book which was realistic in its depiction of teenage awkwardness. It was also realistic in its portrayal of Bex and Jack's sexual relationship. I loved the way that both Bex and Jack fought for their relationship.
Fans of romances will enjoy this story.
Favorite Quote:
And if Mom had detected any weirdness between us earlier, it was long forgotten—partly because Jack and I were fine now, and partly because Mom was too busy flirting it up with him and Noah. (Who knew all it took was a couple of extra guys praising her cooking to turn Katherine the Great into a gooey pile of strumpet? It was almost embarrassing.)
I got this ARC from Macmillan.
You can buy your copy here
.