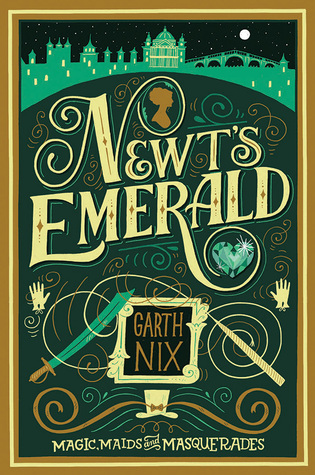 Newt's Emerald
Author:
Garth Nix
Publication:
Katherine Tegen Books (October 13, 2015)
Description:
Inspired by the works of Georgette Heyer and Jane Austen, Garth Nix's
Newt's Emerald
is a Regency romance with a fantasy twist.
New York Times
bestselling author Gail Carriger calls it "charming; quite, quite charming."
After Lady Truthful's magical Newington Emerald is stolen from her she devises a simple plan: go to London to recover the missing jewel. She quickly learns, however, that a woman cannot wander the city streets alone without damaging her reputation, and she disguises herself as a mustache-wearing man. During Truthful's dangerous journey she discovers a crook, an unsuspecting ally, and an evil sorceress—but will she find the Emerald?
My Thoughts:
NEWT'S EMERALD was a delightful Regency romp with magic. It reminded me of the best of Georgette Heyer.
Lady Truthful Newington has grown up in the country with the company of her cousins and the supervision of her Admiral father. Now she has reached the age when she will be sent to London to make her presentation to Society and find herself a husband. However, before she can embark, her father shows her the Newington Emerald which will be hers when she reaches age 21. The emerald is a magical object which has been in the family for many generations. But a sudden storm and an unknown intruder arrive and, when things settle down, the emerald is missing. Her father is taken ill and in moments of lucidity he tells Truthful that he fears the loss of the emerald will destroy the family's luck.
Truthful travels to London to stay with her Great-Aunt Ermintrude and locate the emerald. Her great-aunt reveals hidden depths and encourages her to dress as a man to search for the emerald. Luckily, her great-aunt is a talented sorceress who places a spell on Truthful's false mustache to encourage the deception.
Truthful, now Henri de Vienne, runs into Major Charles Harkness who is convinced that Truthful is a French spy. Having been disappointed in love, Charles says some rude things about Truthful which makes her eager to live down to his opinion of her.
However, the two of them need to work together to defeat the evil sorceress who stole the emerald and along the way, and despite many misunderstandings, the two fall in love. What I especially enjoyed in this story was the Truthful saves Charles's life at least three times. She is no fainting, helpless heroine.
The characters were engaging, the plot was fast-paced, and the setting was intriguing. Other similar books include Georgette Heyer's Regency romances, Jane Austen's novels, and, for readers who want some magic with their Regency story, SHADES OF MILK AND HONEY by Mary Robinette Kowal or SORCERY AND CECILIA by Patricia C. Wrede and Caroline Stevermer.
Favorite Quote:
"What I don't understand," said Harnett, oblivious to this sally, "is these Newington-Lacy cousins. Why head off to secure a replacement gem instead of seraching for the stolen one? Their leaving looks suspicious in the extreme."

"Adventure!" interrupted the general. "Remember when you were under twenty, Charles? Any excuse to escape to adventure was welcome. Why, you took it yourself, joining the colors."

"Oh," said Truthful, suddenly seeing her cousins' eagerness to help as less unselfish concern and more simple high spirits. Or indeed, the effect of spirits . . . she hadn't mentioned the rum punch to the general and Major Harnett.
I got this ARC from Edelweiss.
You can buy your copy here
.