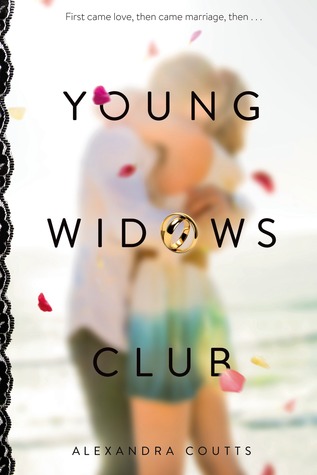 Young Widows Club
Author:
Alexandra Coutts
Publication:
Farrar, Straus and Giroux (BYR) (November 10, 2015)
Description:
First came love, then came marriage, and then...

For seventeen-year-old Tam, running off to marry her musician boyfriend is the ideal escape from her claustrophobic high-school life on the island, and the ultimate rebellion against her father and stepmother. But when Tam becomes a widow just weeks later, the shell-shocked teen is forced to find her way forward by going back to the life she thought she'd moved beyond—even as her struggle to deal with her grief is forcing her to reinvent herself and reach out to others in ways she never imagined.
My Thoughts:
YOUNG WIDOWS CLUB was a touching exploration of grief and finding yourself after tragedy. Tam Baird dropped out of high school to marry her musician boyfriend and act as manager for his band. They began dating when Tam was an eighth grader and Noah was a sophomore. They got to spend almost no time together after they married because Noah died in his sleep just six weeks later.
Since then Tam has been camping in the house Noah and his father were building for them and just drifting through life with no plans and no goals. When she and another of Noah's bandmate friends break into a summer home and swim in the indoor pool, they are caught by the police and arrested. After going to juvenile court, presided over by a friend of her late mother's, Tam is sentenced to return to high school and to attend a young widows group.
Going back to high school lets her connect with her childhood friend Lula Bee and the support group introduces her to a number of other widows and widowers. None of them are really young. The closest is Colin who is a twenty-six year old lawyer hiding out in his parents' summer home after his wife died from ovarian cancer. Tam things the activities planned by the group leader are odd but, having been through therapy after her mother's dead in a hit and run accident when Tam was ten, she feels she knows how to game the system and say what the leader wants to hear.
This story works its way through the stages of grief as Tam has good days and bad days. Like Bunny, the support group leader says, the different stages don't come in order and don't end. Tam and Colin become close which makes Tam feel guilty. She also starts exploring things for her future that wouldn't have been a part of her life if Noah had lived which also makes her feel guilty and uncertain.
This was a very touching story. I liked the support that Tam receives from Lula Bee and from others on the island. I liked that she was finally able to connect with her father about how he moved on from her mother's death. I liked that the ending was hopeful and that Tam was exploring new options and moving on.
Favorite Quote:
Sometimes it feels like everything that happened before happened in a different life, to a different person. It's nice to know I didn't make it up.
I got this ARC from Macmillan. You can buy your copy here.