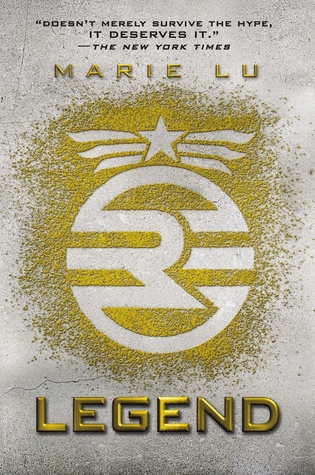 Legend
Author:
Marie Lu
Series:
Legend (Book 1)
Publication:
Speak; Reprint edition (April 16, 2013)
Description:
What was once the western United States is now home to the Republic, a nation perpetually at war with its neighbors. Born into an elite family in one of the Republic's wealthiest districts, fifteen-year-old June is a prodigy being groomed for success in the Republic's highest military circles. Born into the slums, fifteen-year-old Day is the country's most wanted criminal. But his motives may not be as malicious as they seem.
From very different worlds, June and Day have no reason to cross paths - until the day June's brother, Metias, is murdered and Day becomes the prime suspect. Caught in the ultimate game of cat and mouse, Day is in a race for his family's survival, while June seeks to avenge Metias's death. But in a shocking turn of events, the two uncover the truth of what has really brought them together, and the sinister lengths their country will go to keep its secrets.
Full of nonstop action, suspense, and romance, this novel is sure to move readers as much as it thrills.
My Thoughts:
This book is told in alternate chapter by Day, a boy from the poor part of Los Angeles, and June, a girl from the highest military caste who is being groomed for a prestigious military career. Both were tested at age 10. June got a perfect score and finds herself in military college at twelve; Day also got a perfect score but was told he failed and found himself in a military hospital being experimented on. He escapes and spends his time trying to help his family and hinder the Republic's military plans.
In this city, there are recurring plagues that hit mainly the poor parts of town. When plague hits his family house and his young brother Eden is a victim, Day is determined to get the cure. After a failed attempt to steal the potion in which a soldier is killed, he has to find another way to get money to buy the cure.
The soldier who was killed was June's brother Metias which makes June determined to track down Day and bring him to justice. She goes undercover, finds him, spends time with him, and begins to see that he is much different than she had thought. She still turns him in but things happen that disillusion her about the military's goals. She has to find a way to break him out before his execution.
This was a good story. It is easy to see that people in the Republic are being fed misinformation but also easy to see how someone in June's class would believe it. I look forward to the rest of the series to see what happens next for Day and June.
Favorite Quote:
I feel wrong...like I did a terrible thing by betraying a boy who trusted me.
I bought this one on April 13, 2013.
You can buy your copy here
.