Teaser Tuesdays is a weekly bookish meme, hosted by MizB of
A Daily Rhythm
. Anyone can play along! Just do the following:
Open to a random page
Share two (2) "teaser" sentences from somewhere on that page
BE CAREFUL NOT TO INCLUDE SPOILERS! (make sure that what you share doesn't give too much away! You don't want to ruin the book for others!)
Share the title and author, too, so that other TT participants can add the book to their TBR Lists if they like your teasers!
Teaser:
"Who's Eleanor Owens?" Jo whispered. She wasn't a friend or a family member—Jo had never heard her name mentioned. She wasn't an employee, either. Van Houten only had one female employee—the women who cleaned their offices—and her name was Tillie Polk. If Eleanor Owens wasn't a friend or an employee, who was she?

Then the answer came to Jo and she gasped. "Dear God," she said aloud, "Papa had a mistress."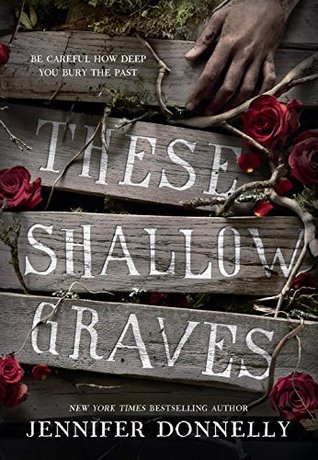 This week my teaser comes from
These Shallow Graves
by Jennifer Donnelly. I got this eARC from NetGalley. Here is the description:
From Jennifer Donnelly, the critically acclaimed New York Times bestselling author of A Northern Light and Revolution, comes a mystery about dark secrets, dirty truths, and the lengths to which people will go for love and revenge. For fans of Elizabeth George and Libba Bray, These Shallow Graves is the story of how much a young woman is willing to risk and lose in order to find the truth.

Jo Montfort is beautiful and rich, and soon—like all the girls in her class—she'll graduate from finishing school and be married off to a wealthy bachelor. Which is the last thing she wants. Jo dreams of becoming a writer—a newspaper reporter like the trailblazing Nellie Bly.

Wild aspirations aside, Jo's life seems perfect until tragedy strikes: her father is found dead. Charles Montfort shot himself while cleaning his pistol. One of New York City's wealthiest men, he owned a newspaper and was a partner in a massive shipping firm, and Jo knows he was far too smart to clean a loaded gun.

The more Jo hears about her father's death, the more something feels wrong. Suicide is the only logical explanation, and of course people have started talking, but Jo's father would never have resorted to that. And then she meets Eddie—a young, smart, infuriatingly handsome reporter at her father's newspaper—and it becomes all too clear how much she stands to lose if she keeps searching for the truth. But now it might be too late to stop.

The past never stays buried forever. Life is dirtier than Jo Montfort could ever have imagined, and this time the truth is the dirtiest part of all.