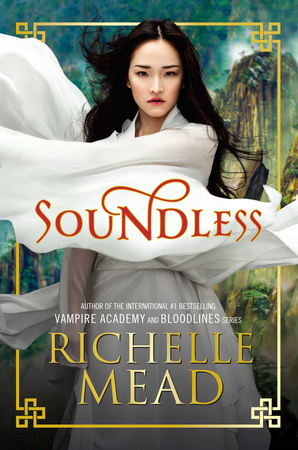 Soundless
Author:
Richelle Mead
Publication:
Razorbill (November 10, 2015)
Description: From Richelle Mead, the #1 internationally bestselling author of Vampire Academy and Bloodlines, comes a breathtaking new fantasy steeped in Chinese folklore.
For as long as Fei can remember, there has been no sound in her village, where rocky terrain and frequent avalanches prevent residents from self-sustaining. Fei and her people are at the mercy of a zipline that carries food up the treacherous cliffs from Beiguo, a mysterious faraway kingdom.
When villagers begin to lose their sight, deliveries from the zipline shrink and many go hungry. Fei's home, the people she loves, and her entire existence is plunged into crisis, under threat of darkness and starvation.
But soon Fei is awoken in the night by a searing noise, and sound becomes her weapon.
Richelle Mead takes readers on a triumphant journey from the peak of Fei's jagged mountain village to the valley of Beiguo, where a startling truth and an unlikely romance will change her life forever....
My Thoughts:
I enjoyed this new fantasy by Richelle Mead. It mines Chinese mythology for its bones and tells the story of a high mountain mining village where all of the residents are deaf and some are going blind too. The village has been isolated from the rest of the country and from any crop lands by a series of avalanches. Conditions are not good in the village. The people send the ore they mine down to the lowlands via a zipline and receive food in exchange. However, the lowlanders are shorting them and people are near starvation.
The main character is Fei who is an apprentice artist whose role is to write the daily record of what she observes in the village. She wishes that she could paint the more colorful things like she sees in her dreams but doesn't have the supplies. One morning, after a particularly vivid dream, she awakes to find that her sense of hearing has been restored. At first, she doesn't know what to make of the strange sensations.
At about the same time, the lowlanders decide to cut rations to the village ever more and Fei along with the young man she loves, Li Wei, decide to make the very perilous climb to the bottom of the mountain to plead with the linekeeper to restore their supplies. Li Wei is a miner which makes him of a lower social class than Fei who is supposed to marry another artist whom she dislikes. Fei convinces Li Wei to take her along because she can hear and should be able to protect them both from the avalanches that will be triggered by their climb.
When Fei and Li Wei reach the bottom, they learn many things that have been kept from them all and both have to perform great acts of bravery before they can help their village. I liked that Fei was such a determined young woman who was trying to do good for her village. I liked the Li Wei supported her despite his desire to make a new life for himself in the lowlands.
I liked the surprising fantasy element that appeared in the final portion of the book. I also liked that the book is a perfectly acceptable standalone novel but that there are opportunities to tell more stories about the characters and the world.
Fantasy fans and Richelle Mead fans will enjoy this engaging story.
Favorite Quote:
Everywhere we go, everything we do that morning, the foreign sensations follow me. They are caused by all sorts of things and come in all different forms. Two china cups hitting each other. The sliding of the door when the servants come through. Porridge splashing into bowls. Feet hitting the floor. People coughing. At first, I'm curious about what new sensation will come first, riveted as I watch cause and effect happening all around me. But soon my head is hurting again, and I'm lost in a sea of stimuli. I can't process it all, and for once, I can barely eat. Only the conditioned knowledge of the importance of food drives me to finish my porridge.
I got this ARC from Amazon Vine.
You can buy your copy here
.