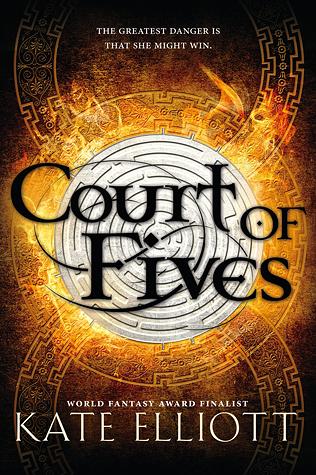 Court of Fives
Author:
Kate Elliott
Series:
Court of Fives (Book 1)
Publication:
Little, Brown Books for Young Readers (August 18, 2015)
Description:
In this imaginative escape into enthralling new lands, World Fantasy Award finalist Kate Elliott's first young adult novel weaves an epic story of a girl struggling to do what she loves in a society suffocated by rules of class and privilege.
Jessamy's life is a balance between acting like an upper-class Patron and dreaming of the freedom of the Commoners. But away from her family she can be whoever she wants when she sneaks out to train for The Fives, an intricate, multilevel athletic competition that offers a chance for glory to the kingdom's best contenders. Then Jes meets Kalliarkos, and an unlikely friendship between two Fives competitors--one of mixed race and the other a Patron boy--causes heads to turn. When Kal's powerful, scheming uncle tears Jes's family apart, she'll have to test her new friend's loyalty and risk the vengeance of a royal clan to save her mother and sisters from certain death.
My Thoughts:
I really enjoyed this new fantasy by Kate Elliott. The main character is Jessamy. She is the second daughter of a Patron father and a Commoner mother. Her father came to Efea for the opportunity to better himself. He is a Captain in the army because of the patronage of Lord Ottonor. Unfortunately, he fell in love with a woman he could never marry. But they have lived together for 20 years and had four daughters - something of a disgrace in a culture that values sons more than daughters.
Jessamy has a secret ambition to compete in the Fives. This is a highly regarded athletic competition that involves strategy, strength, and balance. Because she knows her father would not approve of his daughter getting involved in this, she has to train in secret. She is all set to compete in her first official tournament when her father comes home and ruins her plans. She needs to sneak away from the box where she and her family are viewing the competition with Lord Ottonor in order to compete. Luckily, all competitors are masked until they unmask as victors. Jes needs to come in second so that she doesn't have to unmask. However, she is so much better than the competitor in second place that it is hard for her to throw the competition. She learns that the boy she threw the competition in favor of is Prince Kalliarkos. They meet later when he asks her for tips on how to do better. They shouldn't even be speaking to each other because their social classes are so far apart. Her father is angry that she speaks to him.
Things change abruptly for Jes and her family when Lord Ottonor dies. He was massively in debt and people are scrambling for his assets. Lord Gargaron co-opts Jes's father and will be making him a general and marrying him to his niece, recruits Jes for his Fives stable, and sends Jes's mother and sister into a horrible situation. Lord Garganor is also Prince Kalliarkos's uncle and has plans for him too.
The prince and Jes become friends and even begin a romance while they are training together in Lord Gargaron's stable. He also helps her when it is time to rescue her mother and sisters. But Jes needs to make a decision at the end which has no good choices - betray her friend or betray her family.
The world building was well done. The culture clash between the conquerors and the conquered was well described. Jes and her sisters's roles as young women caught between cultures meant that they were pressured by both cultures and torn between them. I liked the whole idea of the Fives which reminded me of various gladiator reality games on television. I thought that the little touch of magic in the story was intriguing too given that only the Commoners could see it.
I can't wait to read more in this series to see how things work out for Jes and Prince Kalliarkos.
Favorite Quote:
My path is blocked.

I take the only road open to me, the one that leads me out of the household where I grew up and into the household of the lord who has just ripped apart my family.
I bought this one.
You can buy your copy here
.