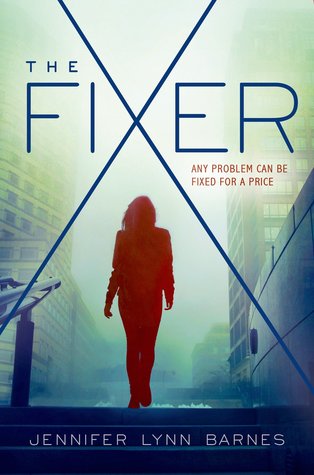 The Fixer
Author:
Jennifer Lynn Barnes
Series:
The Fixer (Book 1)
Publication:
Bloomsbury USA Children's (July 7, 2015)
Description:
When sixteen-year-old Tess Kendrick is sent to live with her older sister, Ivy, she has no idea that the infamous Ivy Kendrick is Washington D.C.'s #1 "fixer," known for making politicians' scandals go away for a price. No sooner does Tess enroll at Hardwicke Academy than she unwittingly follows in her sister's footsteps and becomes D.C.'s premier high school fixer, solving problems for elite teens.
Secrets pile up as each sister lives a double life. . . . until their worlds come crashing together and Tess finds herself in the middle of a conspiracy with one of her classmates and a client of Ivy's. Suddenly, there is much more on the line than good grades, money, or politics, and the price for this fix might be more than Tess is willing to pay.
Perfect for fans of Pretty Little Liars and Heist Society, readers will be clamoring for more in this exciting new series.
My Thoughts:
THE FIXER took me on an emotional rollercoaster. Tess Kendrick has been trying to hold things together on the ranch even though her grandfather is experiencing memory issues. When her older sister Ivy finds out, she rushes in to fix things. The next thing Tess knows, she's in Washington, DC, living with her sister. Tess is angry. Not just because Ivy rushed in and took over but because Ivy left her when she had promised that Tess could come live with her. Tess has decided that she can't trust or depend on Ivy.
Tess also learns that her sister is a noted fixer in DC. When someone has a problem - political, personal, or social - Ivy knows someone who can solve it. When Tess goes to school at Hardwicke, a school filled with the children of the political elite, it is assumed that she is also able to fix things. In fact, almost the first thing Tess does is recover a cell phone that has some inappropriate pictures taken by a bully of a freshman girl - who just happens to be the Vice President's youngest daughter. Tess just hates bullies. She isn't planning to be a fixer.
Tess makes a few friends at school. Vivvie is appointed as her guide when she arrives and quickly becomes a good friend. Asher Rhodes, whom she first meets when she sees him standing on the edge of the roof of the chapel, becomes a friend and gadfly. The funniest scene in the book, one that had me laughing until tears were running down my face, happens when Asher and Tess are called to the Headmaster's office after a little science experiment with Diet Coke and Mentos. She also meets Henry Marquette.
There is a mystery. Henry's grandfather who is Chief Justice of the Supreme Court dies after suffering a heart attack leaving a vacancy on the court and political insiders want to help determine who gets his seat. Vivvie's father is the President's personal physician and was called in to operate on the Chief Justice. He is the one who announced his death. Tess goes to the funeral with Ivy who was friends with the Justice where she runs into an upset Vivvie and and angry Henry.
When Vivvie comes to Tess because she believes her father had something to do with the Justice's death, Tess begins to investigate to help her friend. Ivy is also investigating and orders Tess to keep out of it. That just makes Tess more determined. More deaths follow and the mystery deepens.
Tess tells this story and I love her attitude and her voice. She is smart, sarcastic, and hurting. Her whole life has been jerked out from under her and she is dealing with more changes than any one sixteen year old should have to. She is trying desperately to guard her heart by keeping her distance from everyone. It seems that there is a new shattering revelation around every corner.
This was a wonderful story filled with excitement, mystery and danger. I can't wait to read more in the series.
Favorite Quote:
"I'd tell you that you can't stay mad forever," Ivy commented, "but I'm pretty sure you'd take that as a challenge."
I bought this one.
You can buy your copy here
.