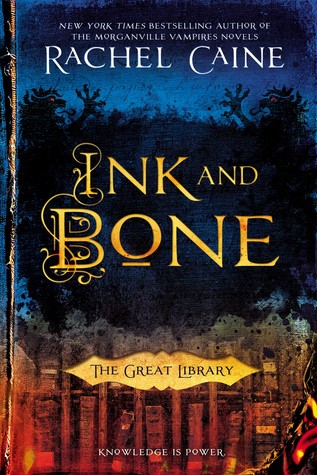 Ink and Bone
Author:
Rachel Caine
Series:
The Great Library (Book 1)
Publication:
NAL (July 7, 2015)
Description:
In an exhilarating new series, New York Times bestselling author Rachel Caine rewrites history, creating a dangerous world where the Great Library of Alexandria has survived the test of time.…
Ruthless and supremely powerful, the Great Library is now a presence in every major city, governing the flow of knowledge to the masses. Alchemy allows the Library to deliver the content of the greatest works of history instantly—but the personal ownership of books is expressly forbidden.
Jess Brightwell believes in the value of the Library, but the majority of his knowledge comes from illegal books obtained by his family, who are involved in the thriving black market. Jess has been sent to be his family's spy, but his loyalties are tested in the final months of his training to enter the Library's service.
When he inadvertently commits heresy by creating a device that could change the world, Jess discovers that those who control the Great Library believe that knowledge is more valuable than any human life—and soon both heretics and books will burn.…
My Thoughts:
In this alternate history book, the Great Library at Alexandria wasn't destroyed and has now gained immense power. All books are owned by the library and distributed in the form of blanks. That makes the smuggling of original books a lucrative but extremely dangerous business. Our hero Jess Brightwell comes from a smuggling family and has been a smuggler since he was a small child. Now sixteen, he doesn't want to join the family business and so his father sends him to try out to win a place in the Library.
Jess and quite a number of young people are accepted into the Library but they have to pass tests of all sorts before they will be offered a position. Jess and 29 others are put under the care of Scholar Wolfe who has to narrow the field down to six. We get to know some of his fellow classmates. Thomas is German and an extremely talented engineer. Khalila is from Riyadh and a brilliant mathematician.
But the Library has all sorts of secrets and has become corrupt over the centuries. Anyone who does anything to undermine the supremacy of the Library is an enemy. For example, the printing press has been invented and suppressed numerous times since Gutenberg in the 15th Century. The Library has also become a very political organization with lots of in-fighting. Wolfe has run afoul of the Library but also has supporters who are protecting him. Lots in this book has to do with plots to kill Wolfe and incidentally his students.
Besides Smugglers, the Library is also threatened by Burners who want to destroy the library. A couple of Jess's fellow students come from Burner families and don't survive. I got the feeling that the Library was under siege from a variety of avenues and having its own internal issues too. Obscurists are a necessary part of the library maintaining its monopoly on information but they are becoming scarce enough that any potential Obscurists who are discovered are kidnapped and enslaved by the Library.
I enjoyed this story. I thought the world building was well done. I also liked Jess as a character who is able to use his smuggling background and contacts to survive in the Library. However, his situation is rather perilous at the end of this volume - but not perilous enough to be considered a cliffhanger ending.
Favorite Quote:
"That's better. I wouldn't want you to think I was so careless. Not like this one, getting his liver sliced for no good reason." Dario's voice wasn't nearly as harsh as his words, and Jess raised his head a little to look at him. In the low lights, it was hard to tell the other boy's expression, but Jess saw the slight inclination of Dario's head. From him, it was as good as a bow. "Remember, losing one pint of blood's an accident. Losing two is carelessness."
I bought this one.
You can buy your copy here
.