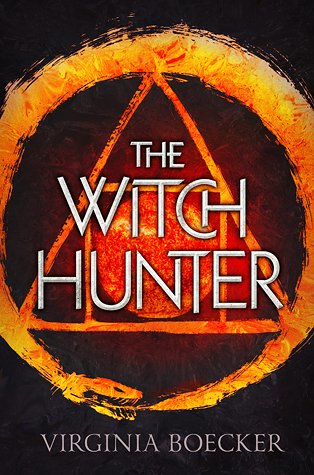 The Witch Hunter
Author:
Virginia Boecker
Publication:
Little, Brown Books for Young Readers (June 2, 2015)
Description:
The magic and suspense of Graceling meet the political intrigue and unrest of Game of Thrones in this riveting fantasy debut.
Your greatest enemy isn't what you fight, but what you fear.
Elizabeth Grey is one of the king's best witch hunters, devoted to rooting out witchcraft and doling out justice. But when she's accused of being a witch herself, Elizabeth is arrested and sentenced to burn at the stake.
Salvation comes from a man she thought was her enemy. Nicholas Perevil, the most powerful and dangerous wizard in the kingdom, offers her a deal: he will save her from execution if she can break the deadly curse that's been laid upon him.
But Nicholas and his followers know nothing of Elizabeth's witch hunting past--if they find out, the stake will be the least of her worries. And as she's thrust into the magical world of witches, ghosts, pirates, and one all-too-handsome healer, Elizabeth is forced to redefine her ideas of right and wrong, of friends and enemies, and of love and hate.
Virginia Boecker weaves a riveting tale of magic, betrayal, and sacrifice in this unforgettable fantasy debut.
My Thoughts:
THE WITCH HUNTER was an interesting fantasy set in an alternate Elizabethan England filled with magic. Elizabeth Grey was orphaned at nine because of a magical plague that decimated the country, killing the king and making Malcolm, a twelve-year-old, king. She was found by Caleb who was just a couple years older and the two of them made their way to the palace. Elizabeth worked in the kitchens until Caleb and she were chosen by Lord Protector Blackwell, the king's uncle, to be trained as witch hunters.
Blackwell has passed some laws sentencing all witches, wizards, and other magic users to death. It is up to Elizabeth, Caleb and the other witch hunters to track them down. Elizabeth believes in this mission. She believes in upholding the law. However, when she is discovered with contraceptive herbs, she is sentenced by Lord Blackwell to die at the stake.
Elizabeth is rescued by the wizard that Blackwell most wants to find, Nicholas Perevil, Elizabeth is determined to escape from him and turn him in to Blackwell to regain her favor with him. However, Blackwell has made Elizabeth a public enemy which ruins any hope of getting back in his favor. Also, Elizabeth starts learning things about Blackwell that change her view of him. She is befriended by some of Perevil's young colleagues. She also learns that Perevil is under a curse set by Blackwell that is slowly killing him.
A seer has foreseen that Elizabeth is the one who will be able to break the curse. First, the group has to unravel the riddles of the seer's prophecy and then Elizabeth has to overcome all her fears to find a way to break the curse on Perevil.
The world building in this story was excellent. Elizabeth was a very realistic young heroine with fears and strengths. I liked knowing so much about her and feeling her need to connect.
Fantasy fans will enjoy this fast-paced story.
Favorite Quote:
That evening after supper we moved into Humbert's sitting room. He summons a musician from somewhere, possibly the last century, by the look of him. Skeletal, wispy white hair, bony hand clutching a lute. He perches on the edge of a chair and begins to warble out a dusty tune,
I bought this one.
You can buy your copy here
.