Happy Friday everybody!!
Book Beginnings
on Friday is now hosted by
Rose City Reader
. The Friday 56 is hosted at
Freda's Voice
. Check out the links above for the rules and for the posts of the participants each week. Don't dig for your favorite book, the coolest, the most intellectual. Use the CLOSEST.
Beginning:
We four sisters are sitting in the courtyard at dusk in what passes for peace in our house. Well-brought-up girls do not fidget nor fume nor ever betray the least impatience or boredom. But it is so hard to sit still when all I can think about is how I am going to sneak out of the house tomorrow to do the thing my father would never, ever give me permission to do.
Friday 56:
"Daughters?" Lord Gargaron professes innocence as he glances at Amaya. "Have you more than one? An expense that surprises me, given your humble origins. I believe you are a baker's son, are you not? Come to Efea to make your fortune?"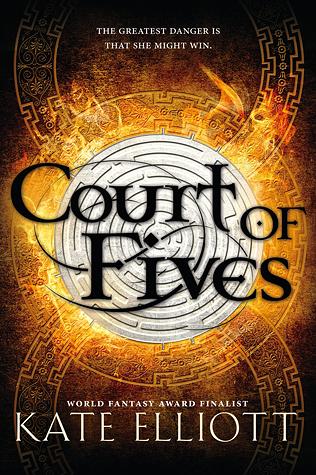 This week I am spotlighting
Court of Fives
by Kate Elliott. I believe that this is her first young adult fantasy. Here is the description from Amazon:
In this imaginative escape into enthralling new lands, World Fantasy Award finalist Kate Elliott's first young adult novel weaves an epic story of a girl struggling to do what she loves in a society suffocated by rules of class and privilege.

Jessamy's life is a balance between acting like an upper-class Patron and dreaming of the freedom of the Commoners. But away from her family she can be whoever she wants when she sneaks out to train for The Fives, an intricate, multilevel athletic competition that offers a chance for glory to the kingdom's best contenders. Then Jes meets Kalliarkos, and an unlikely friendship between two Fives competitors--one of mixed race and the other a Patron boy--causes heads to turn. When Kal's powerful, scheming uncle tears Jes's family apart, she'll have to test her new friend's loyalty and risk the vengeance of a royal clan to save her mother and sisters from certain death.