Teaser Tuesdays is a weekly bookish meme, hosted by MizB of
A Daily Rhythm
. Anyone can play along! Just do the following:
Open to a random page
Share two (2) "teaser" sentences from somewhere on that page
BE CAREFUL NOT TO INCLUDE SPOILERS! (make sure that what you share doesn't give too much away! You don't want to ruin the book for others!)
Share the title and author, too, so that other TT participants can add the book to their TBR Lists if they like your teasers!
Teaser:
"We came down Miller's Road and turned onto the Strand," Tommy said. He tried to keep his voice from shaking. He couldn't betray anything about the girl in the lavender dress or he'd be in trouble.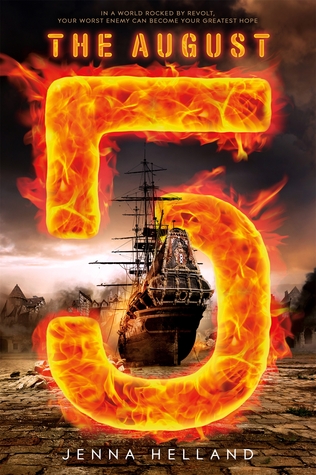 This week my teaser comes from
The August 5
by Jenna Helland. I got this eARC from NetGalley. Here is the description from Amazon:
In a world rocked by revolt, your worst enemy can become your greatest hope

Fourteen-year-old Tommy Shore lives a life of privilege: he has the finest clothing, food, and education available and servants to take care of his every whim. He is the son of the chief administrator of Aeren - the most important man on the islands. Fifteen-year-old Tamsin Henry has grown up knowing only poverty, but she is the daughter of a revolutionary who longs to give her and their people more.

Ordinarily, Tommy and Tamsin would never cross paths, but on the day of a violent and deadly revolt, chance brings them together. Now the world waits to hear the fate of the August 5, five men led by, and including, Tamsin's father and captured during the uprising. As tensions between the government and the rebels escalate, Tommy uncovers a brutal truth about his father. How will he ever get Tamsin to trust that he wants to help her cause, when she believes he stands for everything she's fighting against?