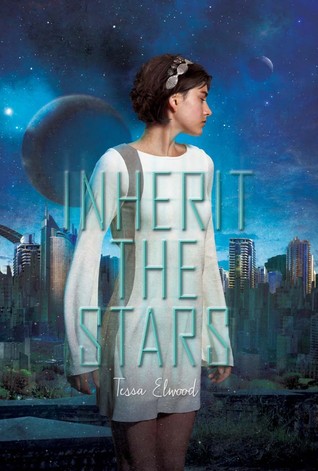 Inherit the Stars
Author:
Tessa Ellwood
Publication:
Running Press Kids (December 8, 2015)
Description:
Three royal houses ruling three interplanetary systems are on the brink of collapse, and they must either ally together or tear each other apart in order for their people to survive.
Asa is the youngest daughter of the house of Fane, which has been fighting a devastating food and energy crisis for far too long. She thinks she can save her family's livelihood by posing as her oldest sister in an arranged marriage with Eagle, the heir to the throne of the house of Westlet. The appearance of her mother, a traitor who defected to the house of Galton, adds fuel to the fire, while Asa also tries to save her sister Wren's life . . . possibly from the hands of their own father.
But as Asa and Eagle forge a genuine bond, will secrets from the past and the urgent needs of their people in the present keep them divided?
Author Tessa Elwood's debut series is an epic romance at heart, set against a mine field of political machinations, space adventure, and deep-seeded family loyalties.
My Thoughts:
Asa is the youngest daughter of the house of Fane. Fane is facing famine because of a blight caused by an invention designed to combat the shortage of an element that provides power. Asa's sister Wren is a technological genius who has solved the problem caused by the invention but not before being caught in a war on a dying planet. Wren is in a coma and Asa is determined to find a way to heal her.
When her next oldest sister is pledged in a marriage to the heir of Westlet, Asa decides that she needs to take her sister's place so that the sister will stay at home to protect Wren. But Asa finds herself married into a family scrambling to hold on to its own political power and married to a young man who has been scarred and traumatized by war.
Asa finds herself floundering to find a foothold in this new world and gradually coming to appreciate her new husband Eagle.
This story is filled with political intrigue and infighting. We watch Asa trying to understand what is happening and trying to find a way to protect her sister Wren and her new husband Eagle. I liked the gradual way the romance took shape. I also liked the way Asa grew into herself and learned who she was.
Fans of science fiction romances will enjoy this story.
Favorite Quote:
"Eagle." If one more person tells me who I am and how I feel, I will raze the world in screams. "I wasn't scared."
I got this ARC from NetGalley.
You can buy your copy here
.