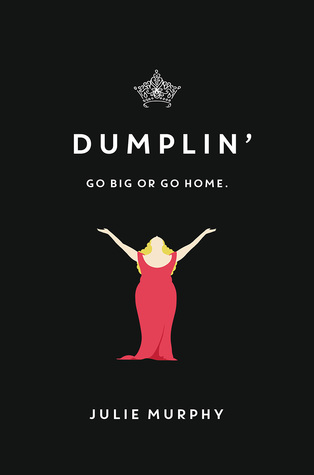 Dumplin'
Author:
Julie Murphy
Publication:
Balzer + Bray (September 15, 2015)
Description:
For fans of John Green and Rainbow Rowell comes this powerful novel with the most fearless heroine—self-proclaimed fat girl Willowdean Dickson—from Julie Murphy, the acclaimed author of
Side Effects May Vary
. With starry Texas nights, red candy suckers, Dolly Parton songs, and a wildly unforgettable heroine—
Dumplin'
is guaranteed to steal your heart.
Dubbed "Dumplin'" by her former beauty queen mom, Willowdean has always been at home in her own skin. Her thoughts on having the ultimate bikini body? Put a bikini on your body. With her all-American-beauty best friend, Ellen, by her side, things have always worked . . . until Will takes a job at Harpy's, the local fast-food joint. There she meets Private School Bo, a hot former jock. Will isn't surprised to find herself attracted to Bo. But she
is
surprised when he seems to like her back.
Instead of finding new heights of self-assurance in her relationship with Bo, Will starts to doubt herself. So she sets out to take back her confidence by doing the most horrifying thing she can imagine: entering the Miss Teen Blue Bonnet Pageant—along with several other unlikely candidates—to show the world that she deserves to be up there as much as any twiggy girl does. Along the way, she'll shock the hell out of Clover City—and maybe herself most of all.
My Thoughts:
This fun contemporary novel tells the story of an unlikely beauty pageant entrant. Willowdean Dickson is fat and trying really hard to be okay with herself. Her mom won the pageant when she was a teen and has been the pageant manager for years. Willowdean and her mom are having some adjustment issues now that Willowdean's aunt and her mom's sister has died. Lucy was morbidly obese, housebound and died of a heart attack at age 36. Lucy was also the one who mostly raised Willowdean and fostered her love of Dolly Parton who was an inspiration to both of them.
Willowdean is also having some friendship problems as she feels that she is growing away from her best friend El. The two have a fight when they both enter the beauty pageant and don't talk to each other for most of the book. These leaves Willowdean to make new friends with a few of the school misfits. Millie is also overweight but has always dreamed of being in the pageant. Amanda wears a brace on her leg to compensate for uneven leg lengths. Hannah has buck teeth and a bad attitude. All of those three have been tormented at school. But they bond over the pageant and a road trip to see drag queens impersonating Dolly.
Willowdean also has boy issues. She works with Bo and starts a summer romance with him which involves lots of secret make-out sessions at the old elementary school. But, when she learns that he has been keeping secrets, she dumps him. She meets Mitch who wants to date her and is a really nice guy but there is no spark between them. When Bo comes back into her life, she's torn between the two boys.
I liked the positive message of this book. I liked Willowdean's realization that everyone is teased about something and that no one has the perfect body. I liked the way she changed during the book but feel she still has a ways to go.
Favorite Quote:
Then, at the end of the day, when we walked to the parking lot, he took my hand firmly in his. It was hard not to feel like we hadn't skipped a step somewhere. I wasn't about to embark on another relationship that was all action and no definition.
I bought this one.
You can buy your copy here
.