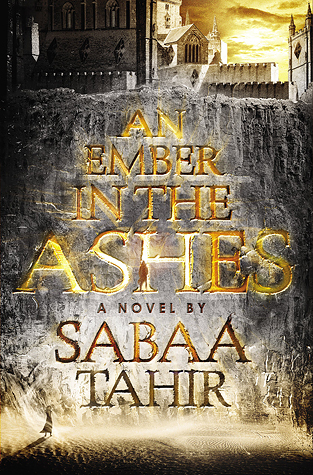 An Ember in the Ashes
Author:
Sabaa Tahir
Series:
An Ember in the Ashes (Book 1)
Publication:
Razorbill; First Edition edition (April 28, 2015)
Description:
A "deft, polished debut" (
Publishers Weekly
, starred review), Sabaa Tahir's AN EMBER IN THE ASHES is a thought-provoking, heart-wrenching and pulse-pounding read. Set in a rich, high-fantasy world with echoes of ancient Rome, it tells the story of a slave fighting for her family and a young soldier fighting for his freedom.
Laia is a slave. Elias is a soldier. Neither is free.
Under the Martial Empire, defiance is met with death. Those who do not vow their blood and bodies to the Emperor risk the execution of their loved ones and the destruction of all they hold dear.
It is in this brutal world, inspired by ancient Rome, that Laia lives with her grandparents and older brother. The family ekes out an existence in the Empire's impoverished backstreets. They do not challenge the Empire. They've seen what happens to those who do.
But when Laia's brother is arrested for treason, Laia is forced to make a decision. In exchange for help from rebels who promise to rescue her brother, she will risk her life to spy for them from within the Empire's greatest military academy.
There, Laia meets Elias, the school's finest soldier—and secretly, its most unwilling. Elias wants only to be free of the tyranny he's being trained to enforce. He and Laia will soon realize that their destinies are intertwined—and that their choices will change the fate of the Empire itself.
My Thoughts:
This book is told from two points of view. Laia is a slave who lives with her grandparents and her older brother eking out a living as Scholars in the Martial Empire. She and her family are in constant danger from the capricious acts of the Empire. Her brother is captured by the Empire and her grandparents killed leaving Laia alone to try to rescue her brother. Her parents were famous revolutionaries who left her and her brother with her parents. They, along with Laia's older sister, were captured and killed by the Empire. Laia's only hope is to convince the remaining revolutionaries to help her rescue her brother.
Elias is a young soldier enduring the brutal training of the Empire to become a Mask - one of the Empire's most feared soldiers. He is about to graduate and has decided to desert in hopes of finally being able to be free. Unfortunately, he is chosen to be one of the candidates for emperor by Augurs who convince him that undergoing the trials is the only way that he will ever be free.
Laia is sent by the leader of the revolutionaries as a slave to the Commandant of the military school Elias attends. She is to act as a spy for the revolutionaries. As it happens, the Commandant is Elias's mother but she hates him and wants him dead. She wants her son's death enough that she is willing to conspire with creatures out of myth to ensure it.
Both Elias and Laia are seeking freedom and their paths cross again and again in this story. The world building is well done. Both main characters are well-defined and well-drawn. Each of them has to make tough decisions that reveal their characters. The story is harsh and often brutal. Laia's treatment as a slave and Elias's as a soldier in training are brutal. Elias's tasks as he suffers the four trials are almost soul-destroying.
This was a rich and layered story that nicely begins a new fantasy trilogy.
Favorite Quote:
"I live with my sins every day." He throws down the tongs and turns to me. "I live with the guilt. But there are two kinds of guilt, girl: the kind that drowns you until you're useless, and the kind that fires your soul to purpose. The day I made my last weapon for the Empire, I drew a line in my mind. I'd never make another Martial blade again. I'd never have Scholar blood on my hands again. I won't cross that line. I'll die before I cross it."
I bought this one.
You can buy your copy here
.