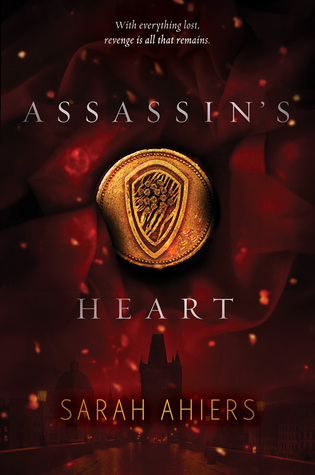 Assassin's Heart
Author:
Sarah Ahiers
Publication:
HarperTeen (February 2, 2016)
Description:
With shades of
Game of Thrones
and
Romeo and Juliet
, this richly imagined fantasy from debut author Sarah Ahiers is a tale of love, lies, and vengeance. Fans of Kristin Cashore and Rae Carson will devour the flawlessly crafted action and inventive world building.
Seventeen-year-old Lea Saldana is a trained assassin. She was born into one of the nine clipper Families in the kingdom of Lovero who lawfully take lives for a price. As a member of the highest-ranking clan, loyalty to Family is valued above all, but that doesn't stop Lea from getting into a secret relationship with Val Da Via, a boy from a rival clan. Despite her better judgment, Lea has fallen in love with him; but she's confident she can anticipate any threat a mile away.
Then she awakens one night to a house full of smoke. Although she narrowly escapes, she isn't able to save her Family as their home is consumed by flames. With horror, she realizes that Val and his Family are the only ones who could be responsible. Devastated over his betrayal and the loss of her clan, there's just one thing on her mind: making the Da Vias pay. The heart of this assassin craves revenge.
My Thoughts:
Lea Saldana is left a hunted orphan when the Da Vias attack and kill her family. Lea's family were number one in status of the nine families of assassins who murder as a form of worship for their goddess Safraella in the city of Lovero. She was having a secret relationship with Val Da Via and feels guilt that she might have given him information his family could use to ambush her family. She swears that she will have her vengeance on the Da Vias but first she has to escape to a place of relative safety to plan and search for allies.
She flees across the dead plains which are haunted by angry ghosts to the town of Yvain in search of the uncle who was exiled before her birth. Since the uncle had been married to a Da Via, Lea hopes to recruit his assistance in her vengeance and find out the location of the Da Via's secret home. But Yvain isn't like her home city. They don't worship Safraella. Lea attracts the attention of a corrupt police officer before she manages to track down her elusive uncle. First she meets Alessio who is an orphan boy that her uncle has partially trained to be an assassin. He offers to help her with her vengeance when her uncle does not.
This was an excellent story with great world building. I was fascinated by the assassins who murder as a form of worship for their goddess who promises rebirth for those who are killed in her name. Lea is a very devout daughter of her goddess and is rewarded by her goddess in quite a surprising way. I also enjoyed Lea's conflict between family and Family which is at the heart of this story and its major theme.
Fantasy lovers will enjoy this debut novel because of its interesting setting, intriguing plot, and great characters.
Favorite Quote:
"The Da Vias killed my Family, yes, but only a fool would think they did it as an at of worship. Maybe that's what they want the common to think, but the nine Families know that the Da Vias attacked us because they were the second Family and we were the first and by killing us they got power. Anything else was just a bonus."
I got this ARC from Edelweiss.
You can buy your copy here
.