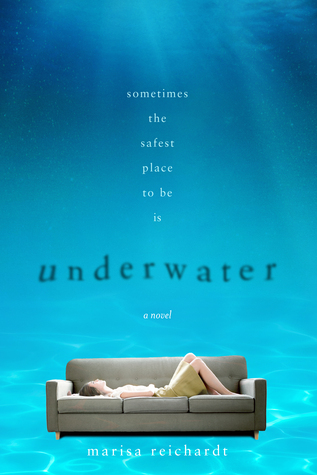 Underwater
Author:
Marisa Reichardt
Publication:
Farrar, Straus and Giroux (BYR) (January 12, 2016)
Description:
A tragic high school shooting leaves seventeen-year-old Morgan Grant a homebound agoraphobe. While she wasn't intentionally connected with the shooting, she struggles with the guilt of being inadvertently involved in the incident. She is also dealing with an absent father who has PTSD after coming back from the war in Afghanistan. Everything in her life seems to be crashing down in waves and pulling her beneath the surface, underwater.
But when a new boy moves in next door, he reminds Morgan of how to keep her head up. He reminds her of all the things she misses, like tank tops and tan lines, surfboards and swimming. Step by step, he shows Morgan how to let go of the past and move on.
My Thoughts:
UNDERWATER tells the story of a young woman who is a survivor of a school shooting. Seven months later she is still unable to leave her apartment, has an emergency stash of pills for panic attacks, and is afraid that she will never get her life back. She meets twice a week with a psychologist who makes house calls. She has a very supportive mother and a Kindergarten brother that she adores. However, her father is not present. He has descended into alcohol addiction and abandoned his family after five deployments in Afghanistan. Morgan is afraid that she will be like him.
When a new boy moves in next door, Morgan begins to make tentative steps. First, letting him into the apartment and gradually being able to leave the apartment. But, for every two steps forward, there is also a step back. She and Evan argue when an episode has her spending hours just laying on the floor of the apartment. Evan is also dealing with the tragedy. His cousin was one of the shooter's victims. He and his mother have come to California from Hawaii so that they can support his grieving aunt.
Morgan was active, outgoing, a straight-A student, and on the swim team. Now she spends her days watching TV and going to high school online. Any mention of the events of October 15 can send her into a panic attack. This was a wonderful story of a young girl who is fighting to recover. Along the way she learns that she has to forgive herself and forgive the shooter who changed her life forever.
Favorite Quote:
He finally settles on some reality show where everyone is fighting and nobody uses proper grammar. My English teacher from last year would've hated it. Reality TV is like fingernails on a chalkboard, she used to tell us.

Now her name is on the memorial wall.

And Finnegan Hall.
I got this ARC from Macmillan via NetGalley.
You can buy your copy here
.