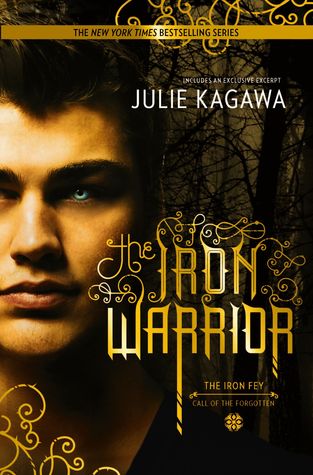 The Iron Warrior
Author:
Julie Kagawa
Series:
The Iron Fey (Book 7)
Publication:
Harlequin Teen (October 27, 2015)
Description:
The Iron Prince—my nephew—betrayed us all.
He killed me.
Then, I woke up.
Waking after a month on the brink of death, Ethan Chase is stunned to learn that the Veil that conceals the fey from human sight was temporarily torn away. Although humankind's glimpse of the world of Faery lasted just a brief moment, the human world was cast into chaos, and the emotion and glamour produced by fear and wonder has renewed the tremendous power of the Forgotten Queen. Now she is at the forefront of an uprising against the courts of Faery—a reckoning that will have cataclysmic effects on the Nevernever.
Leading the Lady's Forgotten Army is Keirran himself: Ethan's nephew, and the traitor son of the Iron Queen, Meghan Chase.To stop Keirran, Ethan must disobey his sister once again as he and his girlfriend, Kenzie, search for answers long forgotten. In the face of unprecedented evil and unfathomable power, Ethan's enemies must become his allies, and the fey and human worlds will be changed forevermore.
My Thoughts:
This story brings the Iron Fey fantasy series to a conclusion. I thought that the conclusion was satisfying. I am going to try to be as non-spoilery as I can be which is going to make this sort of generic.
Ethan Chase is the narrator of this story. Despite his dislike of Faery, he finds himself embroiled in ancient prophecies, family betrayal and a war that would change the course of life in the human world and in the Nevernever.
He and is girlfriend Kenzie along with some former enemies turned allies have to find a way to convince his nephew Keirran to renounce his alliance with the Forgotten Queen. The story includes soul stealing amulet which has made Keirran forget his loved ones. The story is about making choices and dealing with the unforeseen consequences of those choices.
The story is also about love. Keirran's love for the Summer girl Annwyl precipitated the conflict. Ethan's love for his nephew Keirran guides a lot of his actions. There is also Ethan's growing love for Kenzie.
The book had both epic battles and small personal ones. Many characters had to make difficult decisions. Fans of the series will enjoy this final visit.
Favorite Quote:
I was, I realized, getting tired of Faery. I was tired of its wars and power struggles. I was tired of its stupidly dangerous landscapes that defied logic and sanity and would drive you nuts if you thought too hard about it. I was tired of faeries and faery bargains and quests and impossible choices. I was tired of it all.
I bought this book.
You can buy your copy here
.