I have decided that 2016 is the year when I take a look at books on my TBR mountain and read them or donate them. I'm starting with the books that have been on the stack the longest.
Hopefully by the end of 2016, my TBR mountain will be only a foothill.
This week I'm turning the spotlight on
Leviathan
by Scott Westerfeld. I bought this one and the rest of the trilogy on October 26, 2010 when I met Mr. Westerfeld at a book signing at the Wild Rumpus bookstore in Minneapolis.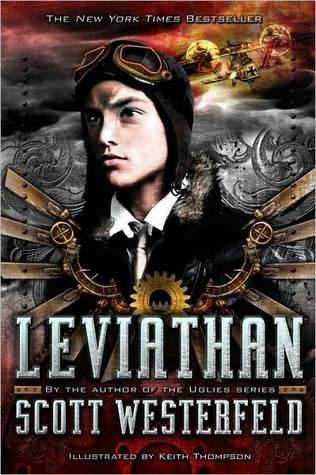 Here is the description from Amazon:
It is the cusp of World War I. The Austro-Hungarians and Germans have their Clankers, steam-driven iron machines loaded with guns and ammunition. The British Darwinists employ genetically fabricated animals as their weaponry. Their Leviathan is a whale airship, and the most masterful beast in the British fleet.

Aleksandar Ferdinand, a Clanker, and Deryn Sharp, a Darwinist, are on opposite sides of the war. But their paths cross in the most unexpected way, taking them both aboard the Leviathan on a fantastical, around-the-world adventure….One that will change both their lives forever.
I like steampunk and I have read and enjoyed other books by Westerfeld. I don't know why these have been on the stack so long.
Have you read this series? Should I move it up the stack?