Teaser Tuesdays is a weekly bookish meme, hosted by MizB of
A Daily Rhythm
. Anyone can play along! Just do the following:
Open to a random page
Share two (2) "teaser" sentences from somewhere on that page
BE CAREFUL NOT TO INCLUDE SPOILERS! (make sure that what you share doesn't give too much away! You don't want to ruin the book for others!)
Share the title and author, too, so that other TT participants can add the book to their TBR Lists if they like your teasers!
Teaser:
If he'd had his way, Papa would have had his meals in his workshop, eaten them with greasy hands while he poked about machinery, and emerged into the sunlight only when some particularly interesting visitor turned up.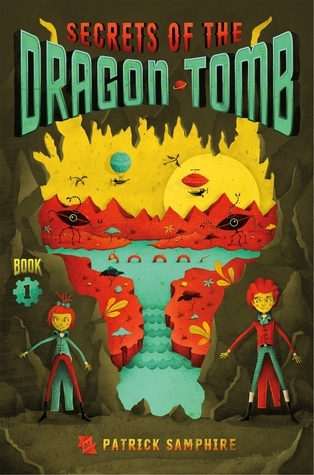 This week my teaser comes from
Secrets of the Dragon Tomb
by Patrick Samphire. I got this ARC from Macmillan. Here is the description from Amazon:
Mars in 1816 is a world of high Society, deadly danger, and strange clockwork machines. Pterodactyls glide through the sky, automatic servants hand out sandwiches at elegant garden parties, and in the north, the great dragon tombs hide marvels of Ancient Martian technology.

Twelve-year-old Edward Sullivan has always dreamed of becoming a spy like the ones he reads of in his favorite magazine, Thrilling Martian Tales. Instead, he spends his days keeping his eccentric family from complete disaster ... that is, until the villainous archeologist, Sir Titus Dane, kidnaps Edward's parents as part of a scheme to loot an undiscovered dragon tomb.

Edward and his sisters set out on a perilous pursuit across the Martian wilderness. Together they must evade Sir Titus's minions, battle mechanical nasties, and escape deadly Martian hunting machines. If they can't, they will never uncover the secrets of the dragon tomb and rescue Edward's family.