Teaser Tuesdays is a weekly bookish meme, hosted by MizB of
A Daily Rhythm
. Anyone can play along! Just do the following:
Open to a random page
Share two (2) "teaser" sentences from somewhere on that page
BE CAREFUL NOT TO INCLUDE SPOILERS! (make sure that what you share doesn't give too much away! You don't want to ruin the book for others!)
Share the title and author, too, so that other TT participants can add the book to their TBR Lists if they like your teasers!
Teaser:
He pushed me to the ground, where I lay, more or less helpless, and he rested his foot lightly on my back. This was the part I hated most, but there was no getting around it. The image was central to the festival and the pantomime.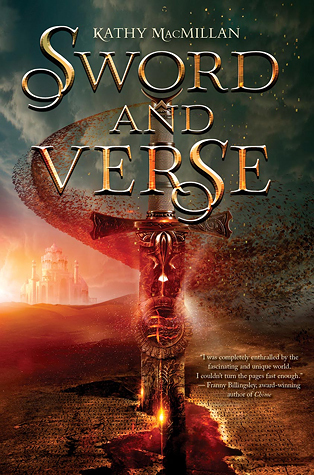 This week my teaser comes from
Sword and Verse
by Kathy MacMillan. I got this eARC from Edelweiss. Here is the description from Amazon:
In a sweeping fantasy that award-winning author Franny Billingsley calls "fascinating and unique," debut author Kathy MacMillan weaves palace intrigue and epic world-building to craft a tale for fans of Rae Carson and Megan Whalen Turner.

Raisa was just a child when she was sold into slavery in the kingdom of Qilara. Before she was taken away, her father had been adamant that she learn to read and write. But where she now lives, literacy is a capital offense for all but the nobility. The written language is closely protected, and only the King, Prince, Tutor, and Tutor-in-training are allowed to learn its very highest form. So when she is plucked from her menial labor and selected to replace the last Tutor-in-training who was executed, Raisa knows that betraying any hint of her past could mean death.

Keeping her secret guarded is hard enough, but the romance that's been blossoming between her and Prince Mati isn't helping matters. Then Raisa is approached by the Resistance--an underground rebel army--to help liberate the city's slaves. She wants to free her people, but that would mean aiding a war against Mati. As Raisa struggles with what to do, she discovers a secret that the Qilarites have been hiding for centuries--one that, if uncovered, could bring the kingdom to its knees.