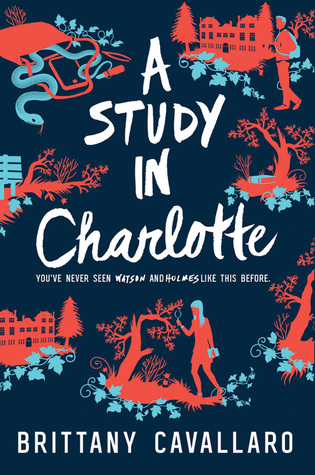 A Study in Charlotte
Author:
Brittany Cavallaro
Series:
Charlotte Holmes Novel (Book 1)
Publication:
Katherine Tegen Books (March 1, 2016)
Description:
The first book in a witty, suspenseful new trilogy about a brilliant new crime-solving duo: the teen descendants of Sherlock Holmes and John Watson. This clever page-turner will appeal to fans of Maureen Johnson and Ally Carter.
Jamie Watson has always been intrigued by Charlotte Holmes; after all, their great-great-great-grandfathers are one of the most infamous pairs in history. But the Holmes family has always been odd, and Charlotte is no exception. She's inherited Sherlock's volatility and some of his vices—and when Jamie and Charlotte end up at the same Connecticut boarding school, Charlotte makes it clear she's not looking for friends.

But when a student they both have a history with dies under suspicious circumstances, ripped straight from the most terrifying of the Sherlock Holmes stories, Jamie can no longer afford to keep his distance. Danger is mounting and nowhere is safe—and the only people they can trust are each other.
My Thoughts:
A teenage James Watson tells this story about his meeting with Charlotte Holmes at a Connecticut boarding school. He has always been fascinated by the idea of her and made up adventures that the two of them had together. After all, they are both the many times great grandchildren of Sherlock Holmes and John Watson.
James doesn't want to be at that school. He was happy living with his mother and younger sister in London but the scholarship opportunity was too good to miss despite the fact that he will be living close to the father he has seen for a number of years. His father divorced his mother, remarried and now has two toddler sons. James hasn't forgiven his father for any of that.
Charlotte has been more or less exiled to the school to get her out of Great Britain. Her parents have distanced themselves from her because they are disappointed in her. She has been to rehab many times for using cocaine, heroine, and oxy. However, she is also brilliant and regularly consults with Scotland Yard to solve crimes.
When a student that both Charlotte and Jamie had run-ins with is murdered and it looks like they are being framed for the death, Charlotte and Jamie have to team up to find out the real killer.
This was a great mystery but an even better story about friendship. Jamie is determined to make Charlotte his friend no matter how much she tries to discourage him because he sees how badly she needs a friend. He has a very stubborn loyalty which is often tested through the events of this story.
Fans of mysteries and especially old or new fans of Sherlock Holmes will enjoy this beginning to a new trilogy.
Favorite Quote:
But I had never wanted to be her boyfriend. I wanted something smaller than that, and far, far bigger, something I couldn't yet put into words.
I got this ARC from Edelweiss.
You can buy your copy here
.