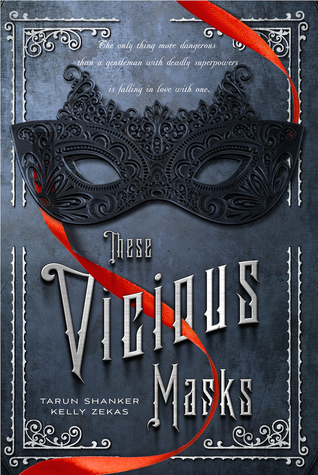 These Vicious Masks
Author:
Tarun Shanker
Publication:
Swoon Reads (February 9, 2016)
Description:
Evelyn has no interest in marriage and even the dashing Mr. Kent can't make her want to live up to society's expectations. She'd much rather assist her beloved sister Rose in achieving her radical dream of becoming a doctor. But everything changes the night she meets Sebastian Braddock –- not only is the reclusive gentleman both vexing and annoyingly attractive, he's also quite possibly mad, and his interest in Rose is galling. So when Evelyn wakes up to discover that Rose has disappeared, she immediately suspects Sebastian.
But then she discovers that Sebastian's strange tales of special powers are actually true, and that Rose's kidnappers have worse in mind for her than simply ruining her reputation. Surrounded by secrets, lies, and unprecedented danger, Evelyn has no choice but to trust Sebastian, yet she can't help but worry that Sebastian's secrets are the most dangerous of all…

Jane Austen meets X-Men in this thrilling Victorian adventure!
My Thoughts:
This story begins like a historical romance. Our heroine Evelyn is bored with the Season and wishes she could travel instead. She is stubborn and snarky. She and her younger sister Rose also do some nursing which appalls here society conscious mother. In fact, they have quite a reputation in the area where they live for their success in treating illness and injury.
They are attending a ball one evening when introduced to the nephew of the host. Mr. Sebastian Braddock who is a regular Byronic hero. This annoys Evelyn who believes that he is only playing a role to attract women. They also meet a very large Frenchman who wants Rose to come cure his ailing sister. Also in attendance is Mr. Nicholas Kent who is a persistent suitor and co-conspirator of Evelyn's.
When Rose is disappears leaving a note that seems false to Evelyn and packing an odd assortment of clothing, Evelyn is certain that she has been kidnapped. Her parents are more concerned about their family reputation than finding Rose which leaves headstrong Evelyn to do it.
She heads off to London to find and rescue her sister where the story takes a turn to the magical. It seems that there are people who have fantastic talents and at least one mad scientist who wants to study them. This scientist has taken Rose because he sees her as having a talent for healing. In fact, it is Evelyn who has that talent though she doesn't know it at first. Mr. Braddock offers to assist her in finding her sister if she will use her talent to heal a friend. Mr. Kent is also eager to be of assistance to Evelyn.
As the exciting story goes on, we learn that both Sebastian and Nicholas has talents of their own and what could be a typical historical romance quickly becomes something quite different. Fans of strong heroines, adventure, and mystery will enjoy this excellent story.
Favorite Quote:
"But what if tonight, in my sheltered naivete, I accept a proposal from a pitiless rogue who takes all my money and confines me to an attic?"

"Then better it happen here than on the Continent."
I got this ARC from NetGalley.
You can buy your copy here
.