Happy Friday everybody!!
Book Beginnings
on Friday is now hosted by
Rose City Reader
. The Friday 56 is hosted at
Freda's Voice
. Check out the links above for the rules and for the posts of the participants each week. Don't dig for your favorite book, the coolest, the most intellectual. Use the CLOSEST.
Beginning:
The first time I met her was at the tail end of one of those endless weekday nights you caoul only have at a school like Sherringford.
Friday 56:
Her hand tightened on my arm—in horror, I assumed. I didn't dare look over at her.

"This is Charlotte Holmes," I said quietly. "She's not my girlfriend."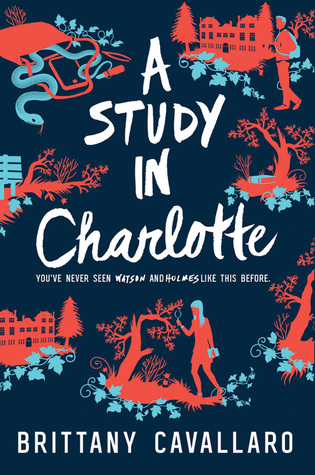 This week I am spotlighting
A Study in Charlotte
by Brittany Cavallaro. I am a sucker for anything Sherlock Holmes so I had to download this eARC from Edelweiss. Here is the description from Amazon:
The first book in a witty, suspenseful new trilogy about a brilliant new crime-solving duo: the teen descendants of Sherlock Holmes and John Watson. This clever page-turner will appeal to fans of Maureen Johnson and Ally Carter.

Jamie Watson has always been intrigued by Charlotte Holmes; after all, their great-great-great-grandfathers are one of the most infamous pairs in history. But the Holmes family has always been odd, and Charlotte is no exception. She's inherited Sherlock's volatility and some of his vices—and when Jamie and Charlotte end up at the same Connecticut boarding school, Charlotte makes it clear she's not looking for friends.

But when a student they both have a history with dies under suspicious circumstances, ripped straight from the most terrifying of the Sherlock Holmes stories, Jamie can no longer afford to keep his distance. Danger is mounting and nowhere is safe—and the only people they can trust are each other.