Teaser Tuesdays is a weekly bookish meme, hosted by MizB of
A Daily Rhythm
. Anyone can play along! Just do the following:
Open to a random page
Share two (2) "teaser" sentences from somewhere on that page
BE CAREFUL NOT TO INCLUDE SPOILERS! (make sure that what you share doesn't give too much away! You don't want to ruin the book for others!)
Share the title and author, too, so that other TT participants can add the book to their TBR Lists if they like your teasers!
Teaser:
"Ca—yo—hear m—?" her voice called out. My head absently nodded to my disembodied teacher's question. I stared around the dreamscape wildly, wondering why I was still asleep and not jolting awake with fear.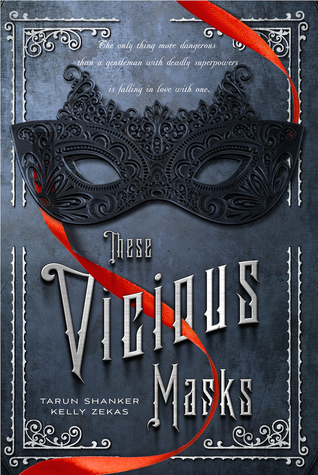 This week my teaser comes from
These Vicious Masks
by Tarun Shanker. I got this historical fantasy from NetGalley. Here is the description from Amazon:
Evelyn has no interest in marriage and even the dashing Mr. Kent can't make her want to live up to society's expectations. She'd much rather assist her beloved sister Rose in achieving her radical dream of becoming a doctor. But everything changes the night she meets Sebastian Braddock –- not only is the reclusive gentleman both vexing and annoyingly attractive, he's also quite possibly mad, and his interest in Rose is galling. So when Evelyn wakes up to discover that Rose has disappeared, she immediately suspects Sebastian.

But then she discovers that Sebastian's strange tales of special powers are actually true, and that Rose's kidnappers have worse in mind for her than simply ruining her reputation. Surrounded by secrets, lies, and unprecedented danger, Evelyn has no choice but to trust Sebastian, yet she can't help but worry that Sebastian's secrets are the most dangerous of all…

Jane Austen meets X-Men in this thrilling Victorian adventure!