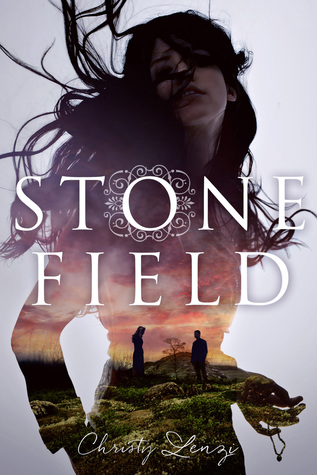 Stone Field
Author:
Christy Lenzi
Publication:
Roaring Brook Press (March 29, 2016)
Description:
A stunning debut novel that offers a new look at a classic love story about soul mates torn apart by the circumstances of their time.
Catrina Dickinson is haunted by her past and feels caged in by life in small town Missouri. When she discovers a strange man in Stone Field where her family grows their sorghum crop, her life takes on new meaning. He has no memory of who he is or what brought him to Cat's farm, but they fall passionately in love. Meanwhile, the country is on the brink of the Civil War, and the conflict in Missouri demands that everyone take a side before the bloodbath reaches their doorstep.

A passionate and atmospheric reimagining of Emily Bronte's Wuthering Heights, Stone Field explores how violence and vengeance perverts the human spirit, and how hatred can be transcended by love.
My Thoughts:
This reimagining of
Wuthering Heights
stars Catrina Dickinson who is a young woman living in Missouri during the Civil War. She is dreamy, artistic, not interested in "womanly" things, and guilt-stricken over her role in her mother's death. When she finds a naked man in the families sorghum field, she brings him home. She takes one look at him and feels that he is her soul-mate. When he awakens from the fever that left him unconscious in the field, he has no memory of his past. She names him Stonefield after the field where he was found and the two become close. Since he is likely at least part Creek Indian, he becomes the target for prejudices of the day.
The whole area is in turmoil because some support the Union, some the Confederacy, and some just want both sides to leave them alone. Catrina's brother Henry is a strong supporter of the Union. Her friend Effie who is the black daughter of a former missionary in Africa who inherited property and became the richest man in town has her own issues to deal with. Effie would be a doctor if she were not female and black. A new preacher comes to town and stirs up trouble for Catrina when he decides that she is possessed by the devil because she doesn't behave the way a proper woman should.
The story was moody, atmospheric, and still rooted in the very difficult time that was the Civil War. Catrina would love to let the whole thing pass by her and live in the present with her love Stonefield but outside forces won't let her. Fans of historical fiction and fans of Wuthering Heights will enjoy this creative reimagining.
Favorite Quote:
I love that Stonefield thinks the way I do. We should just keep living in the here and now. The past is too painful and the future is too uncertain.
I got this eARC from Macmillan.
You can buy your copy here
.