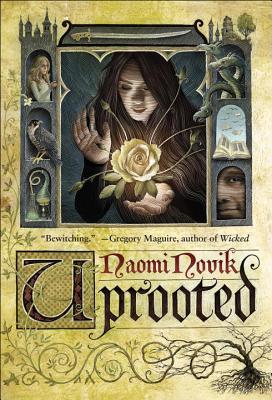 Uprooted
Author:
Naomi Novik
Publication:
Del Rey; 1st edition (May 19, 2015)
Description:
"Our Dragon doesn't eat the girls he takes, no matter what stories they tell outside our valley. We hear them sometimes, from travelers passing through. They talk as though we were doing human sacrifice, and he were a real dragon. Of course that's not true: he may be a wizard and immortal, but he's still a man, and our fathers would band together and kill him if he wanted to eat one of us every ten years. He protects us against the Wood, and we're grateful, but not that grateful."
Agnieszka loves her valley home, her quiet village, the forests and the bright shining river. But the corrupted Wood stands on the border, full of malevolent power, and its shadow lies over her life.
Her people rely on the cold, driven wizard known only as the Dragon to keep its powers at bay. But he demands a terrible price for his help: one young woman handed over to serve him for ten years, a fate almost as terrible as falling to the Wood.
The next choosing is fast approaching, and Agnieszka is afraid. She knows—
everyone
knows—that the Dragon will take Kasia: beautiful, graceful, brave Kasia, all the things Agnieszka isn't, and her dearest friend in the world. And there is no way to save her.
But Agnieszka fears the wrong things. For when the Dragon comes, it is not Kasia he will choose.
My Thoughts:
UPROOTED was an amazing and lyrical epic fantasy. Agnieszka is a young woman who has grown up in the shadow of the Dragon's tower and in the shadow of the Wood which is filled with danger and corruption. Each ten years the Dragon picks a seventeen-year-old girl to be his servant. At the end of that time, the girl doesn't come back to the valley. Everyone knows that the Dragon will be picking Agnieszka's best friend Kasia who is beautiful, brave, and talented -- but everyone is wrong.
Agnieszka has to find her way in the Dragon's tower when she never expected to be there. She also finds herself reluctantly learning magic and, even more reluctantly, getting involved in the bigger political picture. The Wood captures her friend Kasia and, despite it never happening before, Agnieszka manages to recover her from the Wood and clean her of the Wood's corruption. But Kasia is greatly changed by the experience. When Prince Marek learns that Kasia has been rescued, he pursuades (actually it is closer to blackmail) Agnieszka and the Dragon to attempt to rescue his mother, the Queen, who was stolen more than 20 years before.
This one has everything. It has a feisty heroine who isn't going to do anything the conventional way and who has a fierce loyalty to those she loves. It has a mysterious wizard who is tasked with keeping the Wood away from the human lands. It has a prince who will do anything and pay any price to rescue his mother. It has various other wizards of varying power and personalities. It has strange creatures. It has battles. It has friendship and love.
Fans of epic fantasy won't want to miss this excellent story.
Favorite Quote:
I had forgotten hours and days by then. My arms ached, my back ached, my legs ached. My head ached worst of all, some part of me tethered back to the valley, stretched out of recognizable shape and trying to make sense of myself when I was so far from anything I knew.
I bought this one.
You can buy your copy here
.