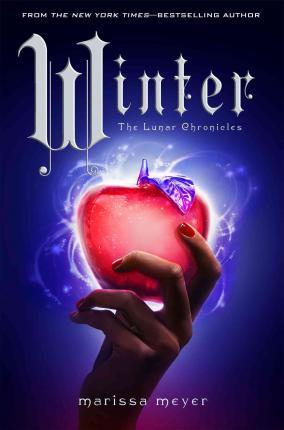 Winter
Author:
Marissa Meyer
Series:
Lunar Chronicles (Book 4)
Publication:
Feiwel & Friends (November 10, 2015)
Description:
Princess Winter is admired by the Lunar people for her grace and kindness, and despite the scars that mar her face, her beauty is said to be even more breathtaking than that of her stepmother, Queen Levana.
Winter despises her stepmother, and knows Levana won't approve of her feelings for her childhood friend--the handsome palace guard, Jacin. But Winter isn't as weak as Levana believes her to be and she's been undermining her stepmother's wishes for years. Together with the cyborg mechanic, Cinder, and her allies, Winter might even have the power to launch a revolution and win a war that's been raging for far too long.

Can Cinder, Scarlet, Cress, and Winter defeat Levana and find their happily ever afters? Fans will not want to miss this thrilling conclusion to Marissa Meyer's national bestselling Lunar Chronicles series.
My Thoughts:
What a breathtaking and wonderful conclusion to the Lunar Chronicles! WINTER reunites all of our favorite characters from earlier books in the series and lets us get to know Princess Winter who is going crazy from not using her lunar gift but who often sees the truths of things others can't see.
This is a the story of a revolution as Cinder and her allies are determined to end the rule of the evil Queen Levana and free the lunar people. We see them working together and alone in building the revolution from the grass roots to the queen's palace. We see the characters in incredible danger. We also see them building their own relationships with their loves too.
The book is told from multiple viewpoints. The only viewpoints that I didn't notice were Thorne and Iko's though they may have been there and they certainly weren't neglected characters. I loved Thorne's egotistical moments and Iko's profound loyalty to her friend Cinder. Every character had multiple shining moments.
I think this book was an excellent conclusion to a very enjoyable series.
Favorite Quote:
"I need him as much as he needs me. But that doesn't make it love."

Winter lowered her lashes. "Actually, dear friend, I suspect that is precisely what makes it love."

I bought this one.
You can buy your copy here
.