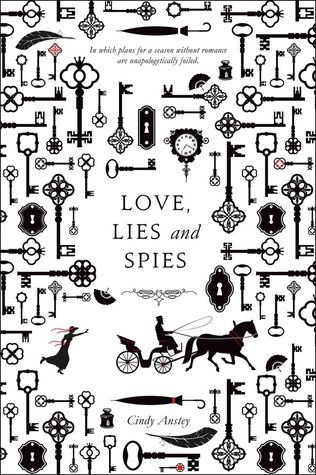 Love, Lies and Spies
Author:
Cindy Anstey
Publication:
Swoon Reads (April 19, 2016)
Description: In
Love, Lies and Spies
, Cindy Anstey's hilarious homage to Jane Austen, a lady with a penchant for trouble finds a handsome spy much more than merely tolerable.
Juliana Telford is not your average nineteenth-century young lady. She's much more interested in researching ladybugs than marriage, fashionable dresses, or dances. So when her father sends her to London for a season, she's determined not to form any attachments. Instead, she plans to secretly publish her research.
Spencer Northam is not the average young gentleman of leisure he appears. He is actually a spy for the War Office, and is more focused on acing his first mission than meeting eligible ladies. Fortunately, Juliana feels the same, and they agree to pretend to fall for each other. Spencer can finally focus, until he is tasked with observing Juliana's traveling companions . . . and Juliana herself.
My Thoughts:
I really enjoyed this historical romance set in Regency England. We meet our heroine dangling from a cliff and in need of rescue but still brave. Juliana is rescued by two gentlemen who promise to keep her adventures a secret in return for her promise not to mention that they were there on the cliff overlooking the sea.
When she meets Lord Randolph Bobbington and Mr. Spencer Northam later in her aunt's parlor, they pretend not to know each other. Juliana is staying with her aunt and uncle and preparing to be introduced into society with her cousin Carrie. Juliana isn't looking for a husband, though. She is much more interested in finding a publisher for her natural history book which details her study of the Lady Beetle.
Spencer isn't looking for a wife either. He is has been tasked by the War Office to identify some traitors to the Crown and plant false information that will make its way to Napoleon. He is watching the Pyebalds - Lord and Lady Pyebald, their daughter Vivian and their son Maxwell. Juliana's aunt and uncle will be hosting the Pybalds once they all arrive in London.
This was a wonderfully tangled story which combines social maneuvering, i.e. the girl's quests for suitable husbands, and political maneuvering as Bobbington and Northam try to track down their spies. It was fun to watch the desperate-to-marry a fortune Pyebalds try to attract Northam for their daughter and Juliana for their son while Spencer and Juliana are falling in love.
Fans of Regency romances with a nice touch of spying will enjoy this tale filled with interesting characters.
Favorite Quote:
If Spencer were ever to consider the possibility of a marital union, it would be in the form of a young lady somewhat like—if not exactly like—Juliana. Someone with intelligence, humor, and an engaging manner. Someone who made liberal use of his rescuing tendencies and yet fiercely declared independence. Someone with whom to share dreams and ideas—not to mention long, passionate nights.
I got this ARC from NetGalley.
You can buy your copy here
.