Happy Friday everybody!!
Book Beginnings
on Friday is now hosted by
Rose City Reader
. The Friday 56 is hosted at
Freda's Voice
. Check out the links above for the rules and for the posts of the participants each week. Don't dig for your favorite book, the coolest, the most intellectual. Use the CLOSEST.
Beginning:
"Oh, my, this is embarrassing," Miss Juliana Telford said aloud. There was no reason to keep her thoughts to herself, as she was alone, completely alone. In fact, that was half of the problem. The other half was, of course, that she was hanging off the side of a cliff with the inability to climb either up or down and in dire need of rescue.
Friday 56
(from location 560 on my Kindle):
"You refer to the security of a well-heeled purse."

"I hesitate to be indelicate, but yes."

There was no missing the glance that traveled up and down her old riding costume.

Juliana shook her head and tried, unsuccessfully, not to grin. "I have no concerns in that regard."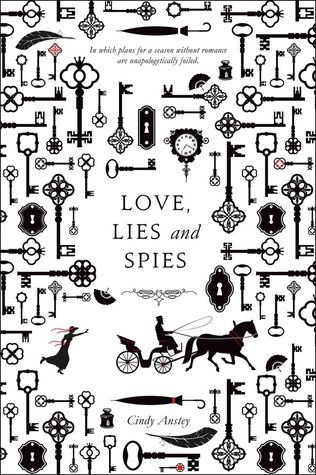 This week I am spotlighting
Love, Lies and Spies
by Cindy Anstey. I got this eARC from NetGalley. Here is the description from Amazon:
In Love, Lies and Spies, Cindy Anstey's hilarious homage to Jane Austen, a lady with a penchant for trouble finds a handsome spy much more than merely tolerable.

Juliana Telford is not your average nineteenth-century young lady. She's much more interested in researching ladybugs than marriage, fashionable dresses, or dances. So when her father sends her to London for a season, she's determined not to form any attachments. Instead, she plans to secretly publish her research.

Spencer Northam is not the average young gentleman of leisure he appears. He is actually a spy for the War Office, and is more focused on acing his first mission than meeting eligible ladies. Fortunately, Juliana feels the same, and they agree to pretend to fall for each other. Spencer can finally focus, until he is tasked with observing Juliana's traveling companions . . . and Juliana herself.