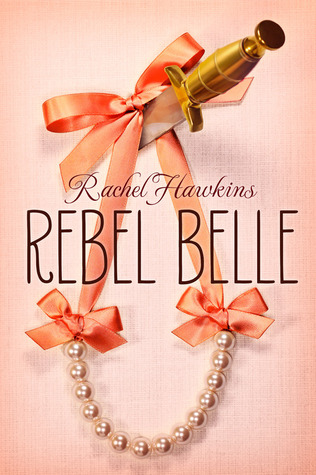 Rebel Belle
Author:
Rachel Hawkins
Series:
Rebel Belle (Book 1)
Publication:
G.P. Putnam's Sons Books for Young Readers (April 8, 2014)
Description:
Harper Price, peerless Southern belle, was born ready for a Homecoming tiara. But after a strange run-in at the dance imbues her with incredible abilities, Harper's destiny takes a turn for the seriously weird. She becomes a Paladin, one of an ancient line of guardians with agility, super strength and lethal fighting instincts.
Just when life can't get any more disastrously crazy, Harper finds out who she's charged to protect: David Stark, school reporter, subject of a mysterious prophecy and possibly Harper's
least
favorite person. But things get complicated when Harper starts falling for him--and discovers that David's own fate could very well be to destroy Earth.
With snappy banter, cotillion dresses, non-stop action and a touch of magic, this new young adult series from bestseller Rachel Hawkins is going to make y'all beg for more.
My Thoughts:
Harper Price has it all under control. She is the quintessential Southern belle. No swear words pass her lips. She is head cheerleader, has a perfect boyfriend, and is soon to be Homecoming Queen. That is, until she stops at the restroom to refresh her lip gloss and runs into a sword wielding teacher trying to kill an unassuming janitor. The janitor breathes into Harper's mouth just before he dies and turns her into a superhero ninja who manages to kill the sword wielding teacher with one of her high heels.
Moments later the bodies, the broken door and damaged restroom are magically put to rights leaving Harper with super powers and lots of lots of questions. She soon learns that she has inherited paladin powers and needs to keep the current oracle from harm. The problem is that the current oracle is her dreaded nemesis and competitor David Stark who delights in writing things about her in the school newspaper that make her mad.
Now Harper has to juggle all of her school responsibilities including the up-coming cotillion with protecting David from being murdered to make way for a more acceptable oracle.
The dialog was great and had a lot of humor. Despite her excessively Type A personality, Harper was a sympathetic character who had an interesting back story. Her friends, including the boyfriend she is growing out of, were well-rounded characters too. And David, despite his poor fashion choices, made an interesting hero.
This is an entertaining start to a series.
Favorite Quote:
Walking over to him, I pulled at the shoulder of his jacket. "Okay, I get that it's weird, and while I totally respect the need for a PTSD moment, we really need to talk."

His eyes moved up to my face, still kind of unfocused. "About what? Why dad guys are chasing you, and why freaking magic is apparently real?"

"I actually think the bad guys might be chasing you, but yeah."
I bought this one, had it autographed and plan to donate it to my HS Media Center.
You can buy your copy here.