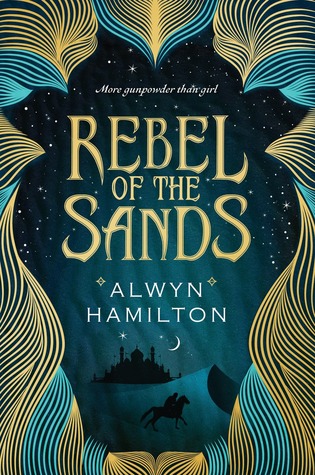 Rebel of the Sands
Author:
Alwyn Hamilton
Publication:
Viking Books for Young Readers (March 8, 2016)
Description:
Mortals rule the desert nation of Miraji, but mythical beasts still roam the wild and remote areas, and rumor has it that somewhere, djinn still perform their magic. For humans, it's an unforgiving place, especially if you're poor, orphaned, or female.
Amani Al'Hiza is all three. She's a gifted gunslinger with perfect aim, but she can't shoot her way out of Dustwalk, the back-country town where she's destined to wind up wed or dead.
Then she meets Jin, a rakish foreigner, in a shooting contest, and sees him as the perfect escape route. But though she's spent years dreaming of leaving Dustwalk, she never imagined she'd gallop away on mythical horse—or that it would take a foreign fugitive to show her the heart of the desert she thought she knew.
Rebel of the Sands
reveals what happens when a dream deferred explodes—in the fires of rebellion, of romantic passion, and the all-consuming inferno of a girl finally, at long last, embracing her power.
My Thoughts:
Amani is a young woman living on the edge of nowhere in a land ruled by a Sultan who has made a deal with a country that wants to conquer his. It is a land of djinn and other magical creatures. And it is a desert.
Since she is poor and orphaned and under the control of an aunt and uncle who don't want her, she is determined to get away to the city which lived in her mother's stories and which appears to her to be a land of opportunity. However, her plans are sabotaged when she meets a young man named Jin at a shooting competition and finds herself joining forces with him when he is on the run from the Sultan's army. She quickly finds herself involved in a revolution that she had pretty much thought was just a story like the hundreds of other stories she had heard.
The story is filled with action. Jin and Amani have a number of narrow escapes from the forces attempting to capture them. It is also a sort of romance as she and Jin become close while they are on their adventures. But, most of all, it is the story of a young woman who thought she wanted to go it alone and who discovers fulfillment and happiness when she joins forces with others.
I loved the worldbuilding in this fantasy story. The desert setting really came to life. I liked the mythological creatures that made appearances too. Fans of fantasy won't want to miss this exciting adventure.
Favorite Quote:
I'd never thought about whether I believed in God. I believed in the stories in the Holy Books the same way I believed in the stories of the First Mortal or Rebel Prince Ahmed. It never mattered to me if they were true. They had enough truth of greater ideas, of heroes and sacrifice and the things everybody wanted to be.
I bought this book.
You can buy your copy here
.